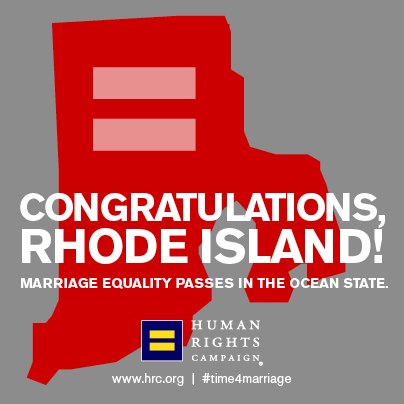 Today Rhode Island is a little bit better than it was yesterday. Today all men and women in Rhode Island are free to marry the person they love, regardless of gender. This was a long, hard fought battle but in the end, love and tolerance beat out bigotry and prejudice, and an important step was taken towards forming that "more perfect union."
Marriage Equality is the law in Rhode Island.
Same-sex couples are free to walk into city halls all across our state and get marriage licenses, starting today. Marriages will be taking place today, throughout the weekend and onto perpetuity. Relationships will be formally recognized by the state, families will be formed, and ten years from now people will be wondering what all the fuss was about.
Perhaps the highest profile wedding today will be the reaffirmation of vows between Representative Frank Ferri, of Warwick, and his longtime husband and partner Tony Carpaco.
At 8:30am, outside the Providence City Hall (25 Dorrance St.), there will be a Marriage Equality Sidewalk Celebration!
According to organizer Mikaela Vento,
The goal here is to provide a comforting, supportive and upbeat environment to those couples by having a 'sidewalk celebration!' For any possible threats of opposition, we will be there showing how much we support marriage for ALL families!

KEEP IN MIND ~ August 1st marks our well deserved victory over marriage – let's keep it a positive experience! The purpose of these events is to enjoy the day. Let's not spend our time giving our opposition attention and counter protesting them, but enjoying our day by celebrating with one another. Feel free to bring signs.

These celebrations will take place at Providence City Hall (8:30-9:20am) AND the RI State House (9:30-10:00am).
Sure, there are going to be haters in town, but really, who cares about the ridiculous Westboro Baptist Church? Today is a day of celebration, love and joy. Let's make that the story.
I'll have some photos (and maybe video) later in the day covering events here in Providence and a late post on the Frank Ferri/Tony Carpaco nuptials.
Marriage equality is here!

,