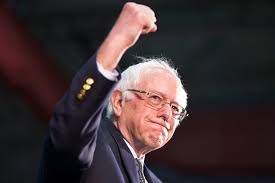 If you watch the video on YouTube entitled "The Struggle Continues," where Bernie Sanders gives a speech in Santa Monica, California on the day of the California primary, there's a moment around the 9:30 mark where the crowd starts chanting "Ber-NIE! Ber-NIE!" And if you pay close attention to his reaction, he doesn't smile. He doesn't raise a fist. In fact, he looks somewhat annoyed, which is a trademark Bernie look for when he needs to make a point. And instead of relishing the moment, as many of us would if thousands of people chanted our names, he raises his hands to quiet the crowd, and he says, "But you all know it is more than Bernie. It is all of us together."
And the crowd roared because, with that statement, he empowered them. And empowerment is contagious.
I discovered this moment the other night, while watching Bernie's speeches and ads from his campaign, some of which brought a tear to my eye by their sheer inspirational power. Yet, the speech in Santa Monica is one of the most telling moments about what will happen with The Political Revolution going forward.
Now, it's not about Bernie Sanders as a candidate. It's about Bernie Sanders as the leader of our revolution, and it's about all of us working together to achieve common progressive goals at the national, state, and local levels. And for those of you who feel betrayed or abandoned by Bernie, don't. He didn't betray anyone, and he kept his promises to both the party (which he aims to transform) and to his supporters. Now is the time to keep believing, and keep trusting that he knows the right path forward.
Now is the time to commit to causes like Brand New Congress, which is a national organization formed by former Sanders staffers that are committed to electing new congressional candidates across the nation. Now is the time to sign up for Our Revolution, which is Bernie's non-profit organization that will continue to fight for the goals established by his campaign. Now is the time to support progressive candidates for the Rhode Island legislature, like Jeanine Calkin, and to support your local candidates running for town and city councils and school boards, like Jeremy Rix. And now is the time to consider running for office yourself to directly implement the policies that you wish to see in government.
Forget Bernie's endorsement. It was a smart political move by an astute politician, and it deserves no further criticism. Instead, get involved. Engage with your representatives. Ask questions. Be aware of policy and legislative actions. Sign up to help with campaigns. And act to make sure that we, the people, are justly represented.
Like Bernie has always said, change doesn't come from the top on down. It comes from the bottom up–from us.