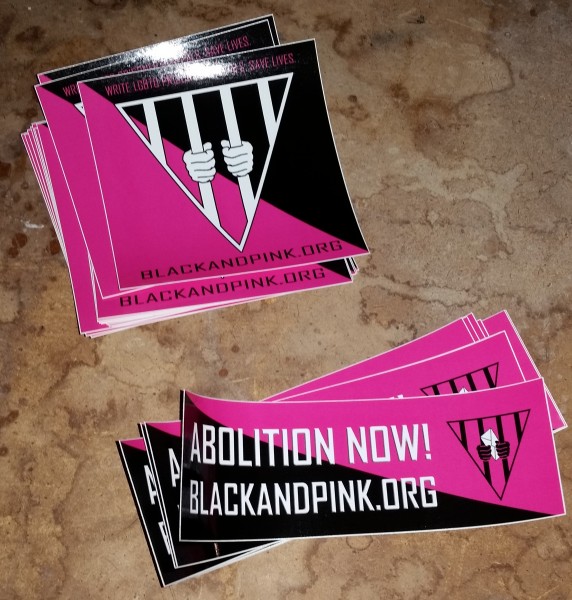 "Mail Call often happens in public spaces in the prison. When someone hears their name called by a prison guard during mail call, it is a reminder that people on the outside care about that person. It is also a message to the guards and other prisoners that this person has support and is not forgotten. This can be a vital harm reduction strategy for people who are locked up, especially queer and transgender folks."
I attended Black & Pink's Multi-City Winter Holiday Card Making Party for LGBT Prisoners here in Providence to find out what is being done to help.
Black & Pink describes itself as "an open family of LGBTQ prisoners and 'free world' allies who support each other. Our work toward the abolition of the prison industrial complex is rooted in the experience of currently and formerly incarcerated people."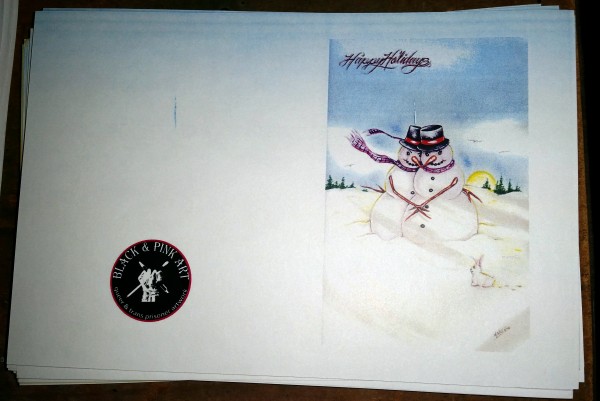 At the holiday card making party I attended, David, one of the organizers, talked about the importance of cards and letters in the life of a prisoner. "When you receive mail [in prison] it's like Christmas," he said.
Black & Pink maintains that the prison industrial complex is an LGBTQ issue. According to the group's literature, the United States has the highest incarceration rate in the world, and LGBTQ people are directly targeted by the police for violence, arrest and intimidation. Trans women and men in particular suffer high rates of physical and sexual violence while imprisoned.
The mailings are important, says David, because prisoners need, "anything to let them know they are not alone."
Still, sending festive holiday cards to prisoners can be tricky. Prison guards have enormous latitude and they can take exception to almost anything to prevent prisoners from getting mail. Glitter, construction paper, stickers, tape, crayon or explicit sexual imagery will likely get your letter filed into the incinerator. Attempting to send this kind of stuff won't get the letter writer in trouble, but the prisoner may be penalized.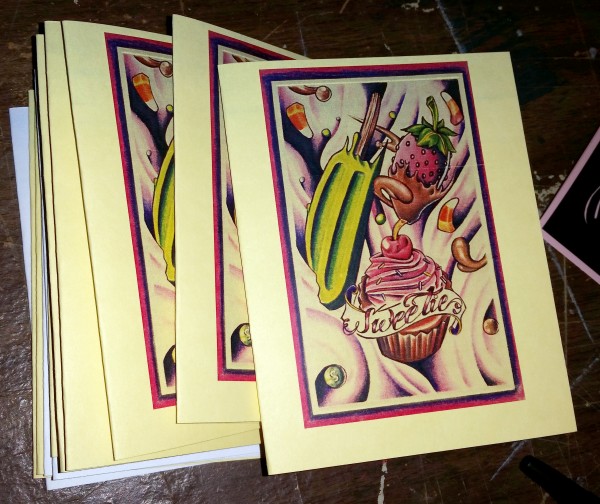 I watched as the 17 volunteers folded and decorated pre-printed cards with colored pencils and markers, writing notes of encouragement and support. The art on the cards was supplied by former and current prisoners. The Rhode Island holiday card making party had a list of 88 names of prisoners in need of support.
Last year, across the country there were 12 such parties. This year Providence joined 134 other cities undertaking the effort. That's amazing growth for a group with an unabashedly radical edge:
"Our goal is liberation. We have a radical view of the fight for justice. We are feminist. We are anti-racist. We want queer liberation. And we are against capitalism. Prisons are part of the system that oppresses and divides us."
There is an effort underway to start a permanent Black & Pink group here in Providence. In addition to the annual holiday card effort, Black & Pink has a Penpal program, offers support for a small number of prisoners facing harassment, sexual violence or lack of access to healthcare, multi-faith religious support and more. Those interested should contact members@blackandpink.org for more information.
---
---
Support Steve Ahlquist!
Black & Pink sends holiday cards to LGBTQ prisoners

,