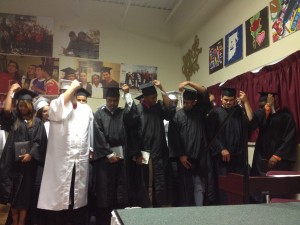 Blackstone Academy, a charter school serving 165 high school students from Central Falls and Pawtucket, looks a lot like what I wish the entire public education system looked like.
Students are encouraged to pursue their passions within, and sometimes a bit outside of, the constructs of the curriculum. Everyone has individualized plans for success. Teachers are highly engaged with their students, their learning styles and their personal struggles. Educators develop community service projects for their classes. There's a vegetable garden out from and students and teachers all call each other by their first names.
I went the the school's graduation ceremony on Friday and nearly every senior was going to college. This from a school who 86 percent of the students are eligible for free and reduced lunch. Not all publicly financed charter schools in Rhode Island are outperforming their public school counterparts, But Blackstone sure is.
How does Blackstone do it? Here's what my lifelong friend John Horton joked to the graduates on Friday.
Horton is a 14 year veteran of teaching with a degree from U Penn. He's also one of the smartest, nicest and most compassionate people I've ever had the pleasure of knowing. There's certainly something to this; Blackstone does have a great staff of teachers. My brother, a former teacher, is their attorney.
What makes Blackstone different?
Here's what school principal Kyleen Carpenter told Julia Steiny in GoLocalProv last week.
"No one wants to hear this, which is why I really want to say: Our school culture kicks butt. Everyone's here to learn; no one's here to screw around. And we will achieve at a high level, whatever that takes. I used to have a line outside my door with kids who said 'F you' to a teacher, or did something wrong. No more. You can't buy culture; you can't make it. You have to have consistent expectations in every single class, and to celebrate achievement."

"As corny as it sounds, a great culture is a commitment to relentless happiness. Also, throw 'no excuses' out the door. These kids have plenty of excuses. But we help them address and remove those excuses so they can get to work. We do not pretend they don't exist. No, it's not all roses and puppy dogs. But we talk about the problems and don't hide them."
Ah, I see … great teachers AND great culture!
So if have great teachers in our all of our schools, do we have great culture? If not, what can we learn about how Blackstone Academy has created its great culture? Rhode Island is diverting funding from traditional public schools, in part, so that charter schools can act as living laboratories for everyone. Is RIDE monitoring and helping to export the success stories? Or is it only diverting resources from the many to the few?
And here's the million dollar question: whatever it is that Blackstone Academy is doing to help poor kids from Central Falls and Pawtucket great a great education, can it be scaled to work elsewhere?