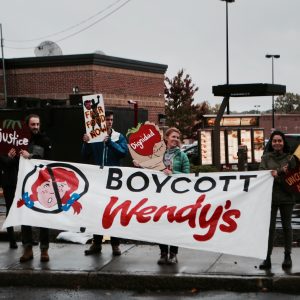 Nearly three dozen people marched and chanted outside Wendy's on Charles St in Providence Friday afternoon to call attention to the boycott of the food chain called by the Coalition of Immokalee Workers (CIW), a group that has fought for farmworker's rights and fair treatment for two decades. Wendy's remains the largest fast food chain that refuses to ethically source their produce from CIW supported growers. Rather than supporting the efforts of the CIW, Wendy's began purchasing its produce from Mexico, where workers "continue to confront wage theft, sexual harassment, child labor and even slavery."
CIW member Julia de la Cruz lead the protest, assisted by members of the Brown University Student Labor Alliance, the AFSC, Fuerza Laboral and the Fair Food Alliance.
When a coalition of five protesters approached the restaurant to deliver a message to the manager, they were loudly asked to leave the property, and did. The protest lasted 90 minutes and garnered the support and interest of many passersby.