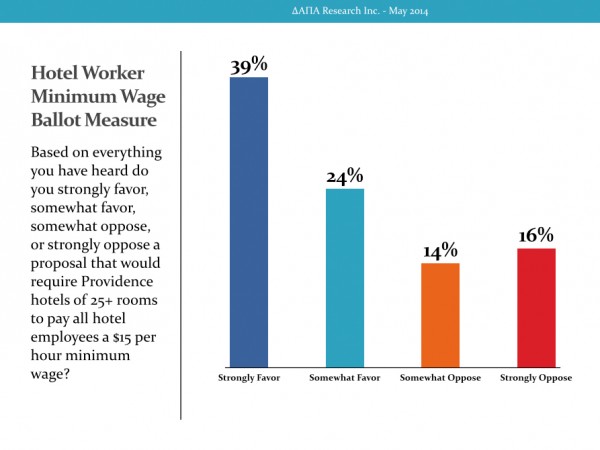 A poll of likely Providence voters released today found that an "overwhelming 64% support the $15 minimum wage for hotel workers," according to the poll conducted by Dapa Research. Rsearchers spoke with 600 likely Providence voters giving the data a four point margin of error.
Check out a power point on the poll here and the full breakdown here.
City councilors, mayoral candidates and candidates for governor should take note: The majority of voters want people to be paid a fair and equitable working wage for the hard work they do.
Pollster David A. Paleologos said, "Among those who felt the minimum wage issue would make a difference in the governor's race and mayor's race, the issue could be impactful; by a 3-1 margin voters said they would be less likely to vote for Angel Taveras (for Governor) and Michael Solomon (for Mayor) if they opposed it."
The numbers run:
Taveras
More likely to vote for him if he opposes: 10%
Less likely to vote for him if he opposes: 32%
Makes no difference: 46%
Solomon
More likely to vote for him if he opposes: 11%
Less likely to vote for him if he opposes: 30%
Makes no difference: 43%
Two hotels in Providence, the Omni and the Biltmore, already pay their housekeepers around $15 an hour. Testimony at the City Hall on Tuesday night from one such worker demonstrated the differences in lifestyle and opportunity such a wage brought one such housekeeper and her children. As she put it, she can actually afford to save money for her children to go to college. 58% of survey respondents found this to be a compelling reason to support the measure.
This measure, upon passage, will affect around 1000 hotel workers, the majority of whom live in the city. Nearly 58% of respondents agreed that "An increase in their wages would mean they have more money to invest in their homes and to spend in local businesses in their neighborhoods." As a Providence landlord suggested at Tuesday night's hearings, this measure would allow hotel workers the opportunity to actually afford to live in the kind decent apartments he rents.
This measure has broad-based support, ranging from 57% to 78%, in all demographics save one: 60% of registered Republicans oppose the measure. Still, it should be noted that nearly a third of registered Republicans support the measure. According to the survey, "Support was broad-based in all neighborhoods of Providence including 57% in the Mt. Pleasant/Elmhurst area, 58% in the East Side, 66% in the No. End, Silver Lake, and Smith Hill areas, 69% in Federal Hill, and 73% in the South Providence/Washington Park areas."
The survey results are clear: this measure is popular, long overdue and more than that, it is the right thing to do.
Tonight the Ordinance Committee of the Providence City Council will be meeting to decide whether or not to send the measure to the full City Council for a vote. Readers should call their City Councillors and letting them know of your support for this measure.
Check out video and a photo essay of this issue from the previous City Council meeting here.