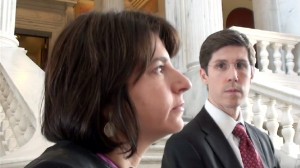 Imagine how much safer Rhode Island would be if police departments and nonviolence nonprofits were incentivized to work together to reduce gun violence? The Senate Finance Committee will consider a bill today that would do exactly that.
Known as the guns and ammo tax, the legislation would put an additional 10 percent tax on the sale of all guns and ammunition in Rhode Island. It's expected to raise $2 million, which would go to local police departments based on the amount of gun violence in each city and town. Local police departments would disperse the money to area nonprofits that organize against gun violence.
The Senate Finance Committee hearing is at 3pm today.
The Senate version is sponsored by Gayle Goldin and the House version by Maria Cimini. It was co-authored by Providence mayoral candidate Brett Smiley, who has pledged to make Providence the safest city of it's size in the nation.
"It helps our police departments, it helps our nonprofits, and it helps every citizen of our state who sees the detrimental cost of gun violence each day," said Smiley in a press release today.
Here's Steve Alhquist's Feb. 6 post of Smiley and Goldin announcing the legislation.