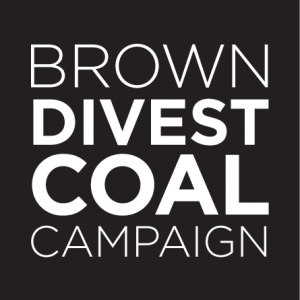 After a lengthy campaign that gained some national attention, Brown University decided against divesting from 15 companies that profit from coal.
University President Christine Paxon wrote a letter explaining the decision on Sunday. "The conclusion of this discussion is that Brown will not divest from coal. I agree with this decision and I am writing to explain why."
She said, "there is no question in my mind that human-caused environmental change and the threat it poses to sustaining life on earth is among the most pressing issues of our time."
But added:
"I believe that although the social harm is clear, this harm is moderated by the fact that coal is currently necessary for the functioning of the global economy. Coal is the source of approximately 40 percent of the world's electricity, and it provides needed energy for millions of people throughout the world. In many regions, there are serious technological impediments to transitioning away from coal. In addition, coal is used in the production of other products, such as cement and steel, which are central to the economies of both developed and developing countries."
Brown Divest Coal quickly admonished the decision. Read their full press statement here.
"Today our administration was too timid to challenge the status quo, but we're going to keep pushing them to stand for what is right," said sophomore Kari Malkki. "Until then, our 'Boldly Brown' motto sounds laughable."
Freshman Kari Malkk said: "The board completely ignored the voices of Brown's community, and of the endowment oversight committee,. This could have been a moment for Brown to step up as a leader in the fight against climate change. Instead, the Administration chose to continue supporting an industry that profits from wreaking havoc on frontline communities and destroying our chance for a sustainable future."
Paxson wrote that she did not feel divestment would have an effect on the coal industry. "Brown's holdings are much too small for divestiture to reduce corporate profits. Furthermore, because the profits of these companies are determined primarily by the demand for their products rather than their stock prices, divestiture would not reduce profits even if Brown's holdings were orders of magnitude larger."
She added: "Although I do not believe that divestiture is the right tool to achieve the societal goals to which we all aspire, I recognize that some of our donors have strong feelings about the role of coal in climate change. Since 2008, Brown has had a social choice fund through which donors can make gifts to the University's endowment."
The social choice fund does not invest in companies that profit from coal and oil but does invest in natural gas, she points out.
Divestment aside, she said she Brown "must" address climate change. "Brown University must, consistent with our mission of teaching and research, be a leader in this arena." And added:
"We can and should do even more. I have asked the Provost to form a Task Force on Brown's Response to Climate Change, which will supplement the work of our standing committee on campus sustainability. My hope is that this committee of faculty, students and staff will identify bold and aggressive ways that Brown as an institution and community members as individuals can lead and contribute to the societal response to climate change. This Task Force will be charged with recommending significant and impactful initiatives to position the University as a leader in combating climate change locally, nationally and around the globe."