Unitarian Universalist congregations affirm seven principles, basically a set common ethics and sources of traditions, that all member fellowships acknowledge. The first principle of Unitarian -Universalism is to affirm "the inherent worth and dignity of every person." The following reflection is written by Brian Kovacs, a longtime member and worship leader on struggling with the First Principle. 

Struggling With the First Principle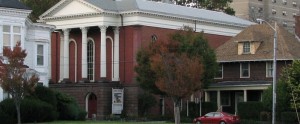 I told a friend I was working on the difficulty of living the First Principle. I had no sooner said, "the inherent worth and dignity of every person" than she cut me off and said, "That's not true." Further discussion was out of the question. My friend is a socially-engaged and liberal Jew. For her, our First Principle is not just preposterous, it is wrong. To her, people obviously do not all have the same inherent worth and dignity. She thinks we're mad. Well, then, what are these Principles? Are they ideals, abstractions, unreal sentimental aspirations, untrue? Are they to be honored in the abstract and denied in the concrete? Do people have inherent worth and dignity? Like my friend, you don't have to believe that. These are Principles, but they are neither dogma nor creed.
'Worth' and 'dignity' could mean respect or regard. They could mean access: rights. Perhaps they mean equality of some sort, though that's not exactly what the Principle says. Personally, I wonder if you can have worth and dignity without equality, without human and civil rights, without access: education, health care, the ballot box.
Many people believe that worth and dignity must be merited. I'm gay. Like other marginalized groups, my people are often told that they haven't earned access or regard and therefore do not deserve it.
Or, that by being offensive or impertinent or demanding or obnoxious or violent, they have disqualified themselves from legitimacy, individually and collectively. Are there statuses that diminish a person's worth and dignity in some manner? Is there a list? If we find one status that somehow disqualifies a person will we not find others?
In the spirit of Max Weber's Protestant Ethic and the Spirit of Capitalism, some people handle the inherent ambiguity of human existence by looking for objective signs of one's worth and dignity: prosperity, success, power, celebrity. The rich and powerful are worth more; the proof is that god favors them. Poverty and suffering are proof of god's distain. That's the prosperity gospel. It's found in Pentacostalism, Mormonism, Scientology, Presbyterianism and frankly I think even among Unitarian-Universalists.
In the words of Belize, from Angels in America, it "isn't easy. It isn't worth anything if it's easy. [It's] the hardest thing." Dietrich Bonhoeffer, a martyr of the Nazi Reich, called what we're talking about, The Cost of Discipleship. When the Worship Committee offers leadership training, one thing that's stressed is that the best services come at a cost: "Say something that it costs you to say." Our struggle with the First Principle and with all the Principles reflects what it costs us to say and to believe things of value. I wonder: what's your struggle?
Brian Kovacs