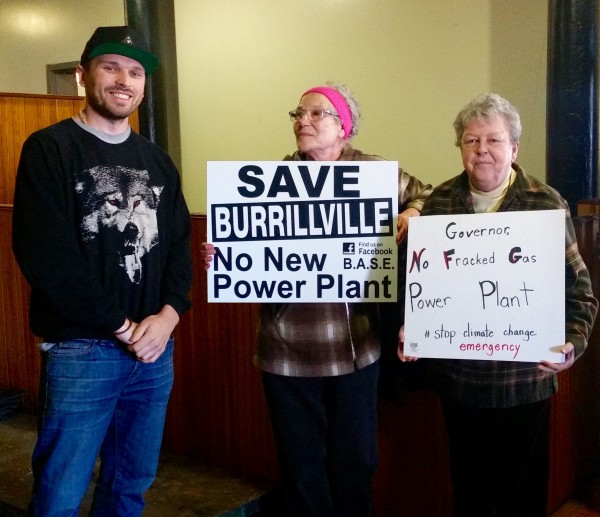 Politicians like Governor Gina Raimondo and Senator Sheldon Whitehouse, who want to position themselves as environmentalist elected officials, are finding that supporting plans to expand fossil fuel infrastructure is a losing proposition.
Raimondo, who came out early and strong for Invenergy's Clear River Energy Complex, a $700 million dollar gas and oil burning plant in Burrillville, has been under continued pressure from environmentalists to end her support. When the Governor attends a public event, there's about even odds that at least one protester will be there holding a sign asking her to change her position.
Yesterday Raimondo was greeted by three power plant protesters at the Hope Artiste Village in Pawtucket while on her way to a press conference. In the video, the Governor invites Nick Katkevich of FANG (Fighting Against Natural Gas) to walk with her as he asks her if her position on the plant is changing. (It isn't.)
Even when Governor Raimondo goes out of state, she is confronted by environmental activists fighting against fracked gas. During her recent trip to Washington DC Raimondo engaged in a public discussion on climate change with Pennsylvania Governor Tom Wolf. Pennsylvania is a state heavily invested in fracking. According to Nicholas Ballasy of PJ Media, "The moderator of the discussion… took just two questions from the audience before abruptly ending the event after the protesters interrupted. The protesters held up signs that said 'Gov. Tom Wolf: Ban Fracking Now' with the Food and Water Watch Fund's logo on them."
Though Raimondo was not the target of this protest, she must know that the plant in Burrillville will depend on the fracked gas coming out of places like Pennsylvania, and that the environmental devastation fracking wreaks there will be partly her fault if she continues to support Clear River.
In the video of the interruption below, you can see Raimondo seated behind a sign that says, "Climate and Clean Energy."
When Invenergy proposed the new power plant, Raimondo must have seen it as a good idea. Energy prices in Rhode Island were high, construction jobs scarce, and the verdict on gas was still somewhat up in the air. All that has changed recently.
The power plant is not needed, as shown by the recent ISO New England Forward Capacity Auction. As the Conservation Law Foundation demonstrated electrical rates in Rhode Island are dropping, and the proposed plant has nothing to do with this drop.
The construction jobs on offer in Burrillville, which were not that many or for that long, are not as needed since Raimondo signed the Rhode Works legislation to rebuild our bridges and roads. Many of these jobs would go to out of state contractors if the power plant is built, and would not have benefited Rhode Islanders any way.
The evidence against fracked gas as a "clean energy source" and a "bridge fuel" is amassing. Countless studies are now showing that methane gas leaks erase the benefits of fracked gas.  Worse, "natural gas plants don't replace only high-carbon coal plants. They often replace very low carbon power sources like solar, wind, nuclear, and even energy efficiency. That means even a very low [methane] leakage rate wipes out the climate benefit of fracking."
Finally, the fracked gas bubble is beginning to burst. As I pointed out in a previous piece, there isn't as much frackable gas as was first assumed, and the price of gas will soon rise even as oil prices drop. With the proposed Burrillville plant designed to burn gas or oil, whichever is cheaper and more available, we may find ourselves with a brand new state of the art oil burning plant.
Raimondo wants to be seen as a leader on the climate. She serves as as vice chair of the on the Governors' Wind and Solar Energy Coalition (GWSC). She's one of 17 governors to sign the Governors Accord for New Energy and she was at the conference in DC, mentioned above. But it's not enough to divest financially from fossil fuels: she has to divest herself politically as well.
Political support for fracked gas is eroding fast. Senator Sheldon Whitehouse, who came out in support of the plant in an interview with Ted Nesi, walked back his support Friday morning in an interview with Bill Rappleye, saying it would be unethical for him to take a position.
That the Environment Council of Rhode Island, a coalition of 62 different groups that protect the environment in the Ocean State "strongly opposes the proposal" may have had something to do with Whitehouse's shifting position, but why this message hasn't penetrated the Governor's office is a mystery.
Asked yesterday about her position on the proposed plant, Senate President Teresa M Paiva-Weed said that she hasn't formulated an opinion because there's no legislation on it before the General Assembly. Sure, that's a political dodge, but Paiva-Weed's not backing the plant either. Her Green Jobs RI report says nothing about expanding fossil fuel infrastructure.
There is a chance that our political leaders will succumb to the will of the fossil fuel companies and force this plant down our throats, like they did with 38 Studios or tried to do with the PawSox stadium. They will pretend to believe the lies of the fossil fuel industry and stick us with a power plant that we don't need, that is ruinous to the local environment and will destroy the climate of the planet. If so, their legacy will be that of destroyers, not environmentalists.
Supporting Burrillville gas plant becoming politically untenable

,