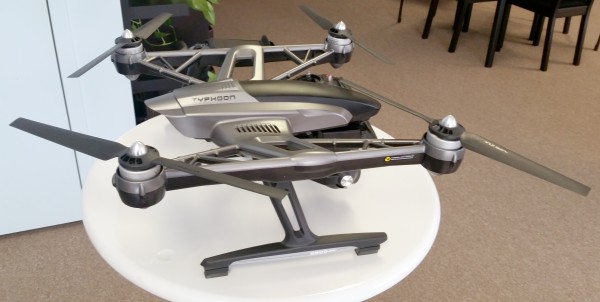 The House Commission on Drones has shown itself, over the course of its three meetings, to be very pro-drone. The concerns of those who seek to profit from drones have been given every consideration, the concerns of privacy advocates, not so much. As bad as this is, Rep Stephen Ucci used to be a lawyer working for Raytheon, one of the biggest drone manufacturers in the world, and he has declined to reveal what, if any, financial ties he still has to the company.
"Raytheon has been aggressively moving into new markets," says a typical stock investment website, "One area is drones, which are increasingly used for both military and civilian purposes. Raytheon is already the leader in the development and manufacture of drone sensors. As world demand for drones takes off, Raytheon will reap the spoils."
Raytheon doesn't just make drones, it makes the sensors that drones need to operate. Theoretically, a little bit of Raytheon could end up in every drone ever sold in the not too distant future. "Raytheon's sensors are prized by the military for their unique ability to penetrate cloud cover. Raytheon continually develops lighter, high-reliability sensors—exactly what the military covets most," wrote Investing Daily Managing Director John Persinos in 2013.
As drones become pervasive, cities and states are moving to enact meaningful regulations to restrict their use over issues of safety and privacy. In Rhode Island, State Rep. Stephen R. Ucci (D-42 Johnston/Cranston) helped to sponsor the legislation that created "The Special Legislative Commission to Study and Review Regulation of Drones and Unmanned Aerial Vehicles" and then got himself appointed to head up the committee. The 11-member House panel, which just finished hearing public testimony on drones for the first time last Thursday, has been tasked (by its organizers) to study and make recommendations about potential laws, rules and regulations that Rhode Island should adopt concerning the use of unmanned aerial vehicles.
Depending on the kinds of laws, rules and regulations that Rhode Island adopts, Raytheon and other drone manufacturers will either be helped or hindered in their efforts to market commercial and recreational drones in our state.  This could mean more or less money for Raytheon and have real financial implications for anyone who maybe invested in the company, like Rep. Stephen Ucci.
Until very recently, Ucci was the senior counsel for the defense contractor Raytheon and general counsel for their Integrated Defense Seapower unit. Ucci's job at Raytheon wasn't just legal work. Speaking to the Providence Business News, Ucci said, "I review things from a legal perspective but also from a business perspective. Not a day goes by that I don't learn something new."
While at Raytheon, Ucci became the only attorney in the company's history to receive the Raytheon Business Development Award. "Mr. Ucci has demonstrated ambition and achievement in the best sense. Professionally, he is the first Raytheon attorney to earn a Raytheon Business Development Award, meaning that he goes beyond providing legal advice to helping the company grow," said Mark Murphy, editor of Providence Business News.
About two years ago Ucci moved from Raytheon to Locke Lord LLC, a law firm in downtown Providence. It is unknown if Locke Lord LLC has business ties to Raytheon, but depending on his financial ties to Raytheon, Ucci's involvement in drone legislation potentially opens the door to allegations of conflict of interest. This is especially relevant since later today the House Corporations committee will be hearing testimony on the very first bill that has come out of the Drone Commission, H7511, which will ban cities and towns in Rhode Island from enacting any rules, regulations or laws regarding the operation of drones, if passed.
The bill, introduced by Ucci and cosponsored by virtually every legislator on the House Drone Commission, does nothing to answer the concerns of privacy advocates who testified on Thursday. This is a pro drone bill. Under this bill, instead of having to deal with the special concerns of individual town and city councils, drone advocates now only have to convince the reflexively pro-business General Assembly to pass laws in their favor. As demonstrated by the creation, makeup and behavior of the Drone Commission, this is easy to accomplish.
An email to Raytheon, the House of Reps and Ucci asking for clarification regarding Ucci's present financial and political ties to Raytheon has gone unanswered as of this writing.
Until the public receives answers about this possible conflict of interest, the General Assembly should not be passing any pro-business drone bills that come out of this suspect commission.
Rep Ucci needs to disclose financial ties to Raytheon ahead of drone bill considerations

,