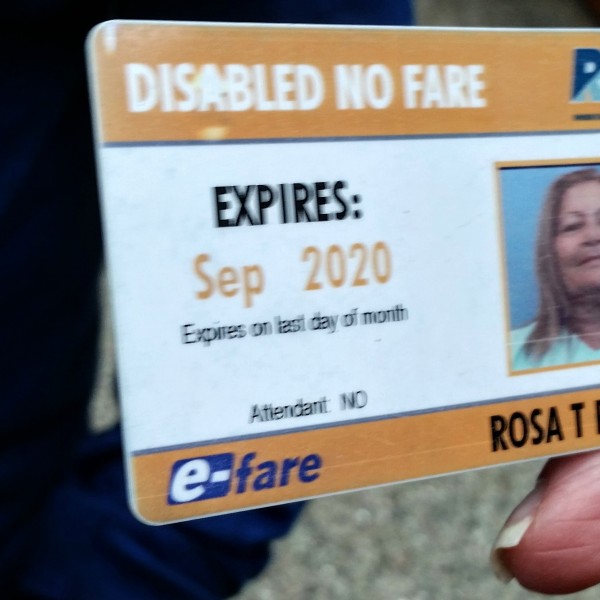 Rosa was waiting near the end of a line of about 30 people when I found her at 8:30am in the Kennedy Plaza terminal building Wednesday morning. In her hand she held a senior/disabled bus pass that was due to expire in September 2020, but a driver told her that the pass was no good anymore and that she had to get a new bus pass if she wanted to continue to ride at the reduced fare.
"I paid for this pass, and now it's no good and I have to pay again," said Rosa.
Barbara Polichetti, Director of Public Affairs at RIPTA (Rhode Island Public Transit Authority)  said that, "Individuals who obtained their passes before January 1, 2013 will be required to pay $10 for their new passes. Anyone who obtained their pass after January 1, 2013 will still need to re-qualify but will not have to pay the $10 processing fee."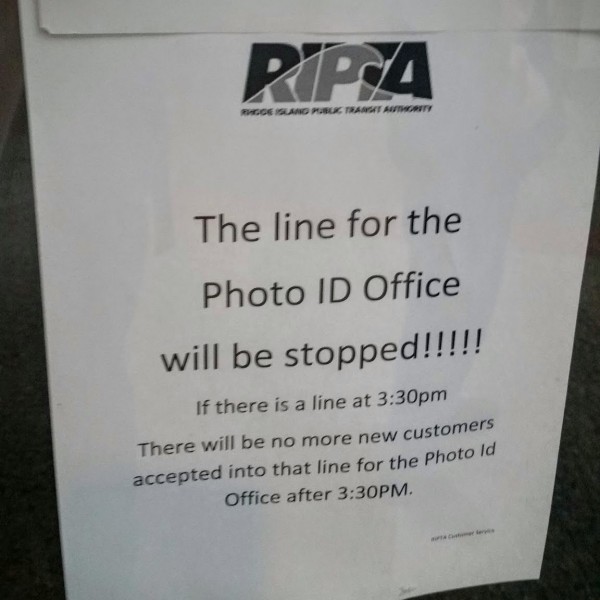 Further up the line Frederick, a disabled man in his late thirties, told me that he had waited in line for over two hours the day before. "They cut off the line at ten people, and told the rest of us to come back tomorrow," he said. He added that it is difficult for him to get around without a bus pass.
RIPTA announced back in April that they were "re-qualifying all passengers eligible to participate in RIPTA's Reduced Fare Bus Pass Program for lower income senior citizens and persons with disabilities." All participants were then required to obtain new passes by July 1. That deadline was later extended to September 1.
I asked Polichetti why re-qualification became necessary. "We looked at all aspects of this program as part of the Comprehensive Fare Study that was conducted last year. In addition to looking at fares, or in this case our no-fare customers, we also looked at the administration of the program. It became very clear that having passes that were valid for five years at a time was not practical or prudent – it was simply too long to go without having people check back in to see if they still qualify for the program.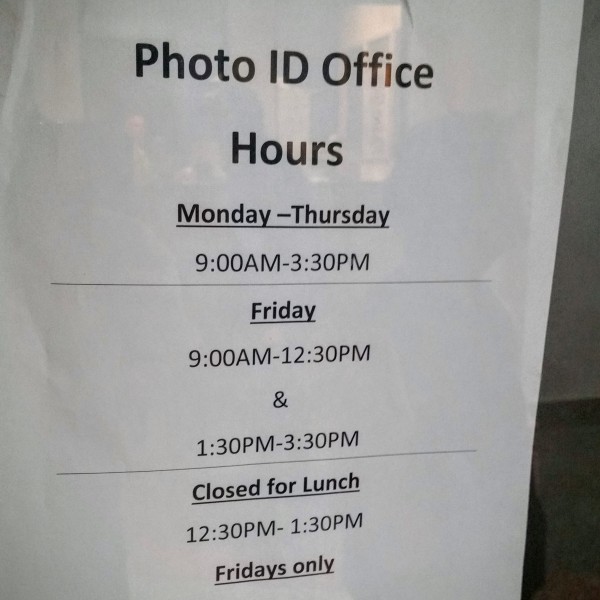 "There was no way to determine if a pass holder had died or moved away; their passes remained active and in use in our system until they expired. So we knew we needed to lessen the time the passes are valid. They will now be valid for two years, not five. The passes being issued now will expire on a customer's birthday after the two-year mark, so everyone will not have to re-qualify at the same time again – it will be staggered."
Originally senior and disabled bus riders were facing a $.50 price hike, but that increase was put off until January, when the General Assembly might reconsider the fare increase.
"We are sensitive to the fact that this program serves a population that is facing financial, health and other stressors in their lives," said Raymond Studley, RIPTA's CEO in June when the extension was announced.
That population includes Alan, who first got in line for a new pass on August 31. He was told that he lacked the proper paperwork. It took him a while to get what he needed from the IRS. I wasn't sure that the one paper he had in his hand would be enough, but Alan seemed confident.
RIPTA's outreach to the public about the program changes has been extensive, said Polichetti, and has included distributing information at charitable organizations and senior centers across the state, running radio ads for five months, and posting reminders on its website, social media and the digital boards on buses and at the Kennedy Plaza transit hub.
Still, many senior and disabled people didn't get the message until a bus driver informed them that their pass was no good. Jose, who was waiting in line with Rosa, doesn't speak much English and his pass didn't expire until May 2019. He was visibly annoyed that his pass was invalid, despite the date printed on it.
"A lot of riders thought that at the last minute the governor would have a change of heart and decide to honor the passes until they expired," said Don Rhodes, president of the RIPTA Riders Alliance. So why didn't RIPTA grandfather in people like Jose and Rosa, who have passes that won't expire for a few years?
"Since one of the goals was to end the five-year tenure of the passes for better administration of the program," said Polichetti, "this would not have worked. It would have meant that some people were still going to have five years without checking in with RIPTA, five years without us verifying that they still qualify for the program, and that they are the rightful pass holder.
"We tried to minimize the financial impact of the re-qualification process by not charging anyone who received a pass after Jan. 1, 2013 for their new passes.  The fee – which is the administrative fee for getting a photo ID pass – remains the same at $5 per year.  The new two-year passes are $10."
Mary waited in line on Tuesday from 1pm to 3:30pm, only to be told to go home and come back tomorrow. She had spent Tuesday morning at the DMV, getting her state issued ID, and then spent hours in vain at RIPTA. It was a long day of waiting in line, with tons of other people, and she didn't get the bus pass she needed.
"It was crazy in here yesterday," said Mary, "It was nuts. The line was over twice as long, and stretched around the room and outside into the rain."
Hopefully Mary will have better luck today, since she arrived an hour before the office opened.
Senior/disabled bus pass re-qualification leads to long lines

,