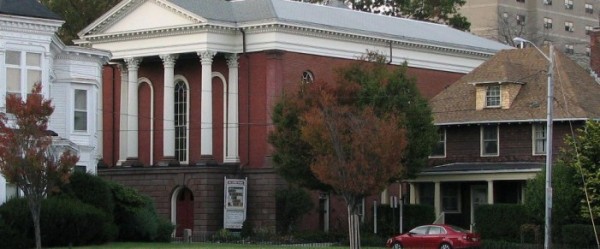 "Love is the Spirit of this Church, and Service is its Law. This is our Great Covenant: To dwell together in peace, to seek the truth in love, and to help one another."
Bell Street Chapel is a Unitarian Universalist congregation in the West End of Providence- and has been since the 1880s. Our history has been tumultuous, mundane and inspiring – and we want to go digital!
This "Call to Worship" blog spot is our way of connecting with a wider community across the state – you. Starting this Sunday, we will be uploading reflections and sermons from our pulpit. If you like what read each Sunday, check us out in real time, Sunday mornings at 10:00am. We're the temple next to the dog park, off Broadway, at 5 Bell St.
Our story is tied to our neighborhood. Providence's West End in the late 19th and early 20th centuries (from Olneyville to Federal Hill) was a hot-bed of ideas- free religion, socialism, immigrant Catholicism, theosophy, Armenian Orthodoxy, rights for women, mysticism, labor unions, Progressivism. In that background, James Eddy, an eccentric and charity-minded art dealer, founded a chapel for a free religion.
In the 1890s, Bell Street Chapel called the first female minister in Rhode Island, Anna Garlin Spencer. Garlin Spencer was involved in the Suffrage Movement, the Peace Movement, promoted education for women in Olneyville, and was investigated by the Federal Government for her anti-war activities in the 1910s.
Our chapel had speakers from Booker T. Washington to Susan B Anthony. Bell St. was the church of the reform governor who told Lincoln Steffens that Rhode Island was, "A state for sale, cheap."
In more recent times, our chapel bounced from 12 members in the 1980s peaking at over 100 in the early 2000s, and has remained steady at about 60 today. We have a history of support for LGBT rights going back to the early 1990s, if not earlier. We were the first church in Rhode Island to oppose the Iraq War, and among the first congregations to support Marriage Equality. We share a portion of our undesignated collection plate offering with a different social justice organization every quarter.
Our hope is that by sharing some of our chapel community's thoughts on spirituality, social issues, and day to day living, Bell St Chapel will have some impact on the discussions of what is right and just in Rhode Island today.
As James Eddy, the founder of Bell St Chapel, once wrote, "Organized error is more powerful than unorganized truth." Bell St Chapel has been a space for liberal religion for well over a century- our words aren't always popular, but we're a home for reflection and action.
As Unitarian Universalists believe all people have value and all are connected. Let's figure out a way to better live together. Have a good week!