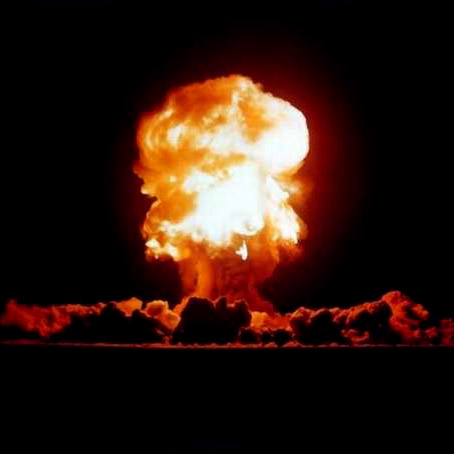 The Union of Concerned Scientists and the Catholic Church have at least two things in common. Both organizations have sounded the alarm on climate change and nuclear proliferation. It's the latter that will bring the two organizations together on this week in Providence. They are two of the organizations hosting a forum called "A New Global Nuclear Arms Race: Risks, Prevention and Moral Imperatives" Wednesday night, 7 p.m. at McVinney Auditorium, Roman Catholic Diocese of Providence, 43 Dave Gavitt Way in Providence.
"The topic is particularly germane to Rhode Island voters because their state is home to a facility that will help manufacture new nuclear-armed submarines," according to a news release, making reference to Electric Boat. "In addition, Rhode Island Sen. Jack Reed serves as ranking member of the Senate Armed Services Committee and Rep. James Langevin serves on the House Armed Services Committee."
One of Wednesday's speakers, Dr. Lisbeth Gronlund, co-director of the Global Security Program at the Union of Concerned Scientists, said, "As a long-standing member of the Senate Armed Services Committee, Senator Reed has an important role to play in ensuring that the U.S. spends its defense dollars wisely. Current plans to spend hundreds of billions of dollars to build a whole new generation of nuclear weapons are not just a waste of money but would undermine U.S. security."
Gronlund plans to speak about "what President Obama—and the next president—should do to reduce the odds that nuclear weapons are used again. She'll discuss the administration's plan to build a whole new generation of nuclear bombs, missiles and submarines, which will cost roughly $1 trillion in coming decades. She also will call on the president to remove land-based nuclear missiles from hair-trigger alert, which sets the stage for an accidental nuclear launch," according to the news release.
The United States is the only nation to ever use a nuclear weapon. In August on 1945, the US dropped atomic bombs on Hiroshima and Nagasaki, effectively ending the war with Japan.
Dr. Stephen Colecchi, the director of the United States Conference of Catholic Bishops' Office of International Justice and Peace, will also speak at the event in Providence on Wednesday night.
"The Catholic Church at its highest levels has supported nuclear disarmament as a moral imperative for decades," Colecchi said, according to the news release. "Saint Pope John XXIII called for a worldwide ban on nuclear weapons in 1963.  Pope Benedict reminded us that in a nuclear war there would be 'no victors, only victims.' And Pope Francis has asserted that 'spending on nuclear weapons squanders the wealth of nations.'"
Bishop Thomas Tobin will be at Wednesday's event, but it's unclear if he agrees with Catholic teachings on nuclear disarmament. In May, he expressed some level of support for foreign wars to NBC10.
"Of course I'm against wars, I don't know anyone who is in favor of wars," Tobin said. "I think it was St. John Paul who said war is always a defeat for humanity. It's never good." But, he added, "Sometimes there are prudential judgments."
He continued, "The Catholic Church has a long tradition of talking about a 'just war theory'. It is never to say someone is just in starting a war, but we certainly believe in the right of self defense. What would someone do to respond to the attacks of terrorism, of ISIS, the terrible persecution of Christians taking place in the Middle East, the attacks on our own country or in France or in Belgium? How do we respond to these violent terrorist attacks without having some means of self defense. That's where I think someone providing legitimate armaments and self defense has a legitimate role to play. Again, no one is in favor of war."
Tobin sidestepped weighing in on the the other issue the Catholic Church and the Union of Concerned Scientists agree on – climate change. After Pope Francis called upon Catholic churches to take a stand against climate change, Tobin said, ""The pope's message deserves careful study and prudent discussion by Catholics and all those concerned about this issue."
Catholics, scientists converge to oppose nukes in PVD

,