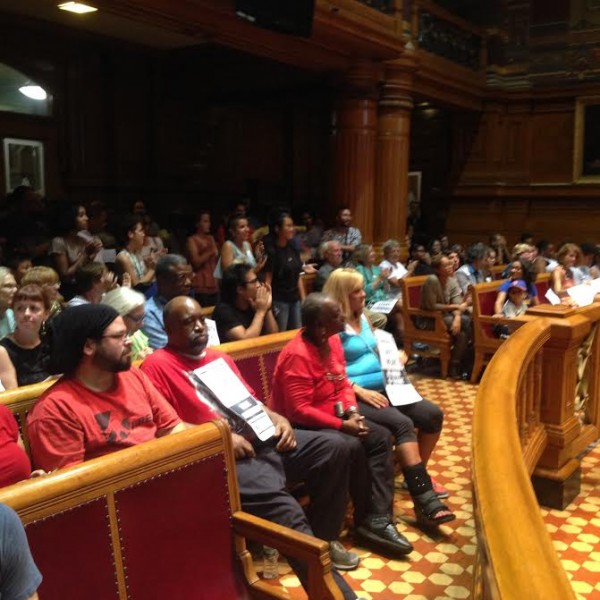 The Community Safety Act, a citizen-proposed ordinance that would address racial profiling and other abuses of power by police, was heard by the Ordinance Committee of the Providence City Council last week. While only six members of the council attended – Council President Luis Aponte, Kevin Jackson, Michael Correia, Sam Zurier, Mary Kay Harris and Bryan Principe – at least 11 community members spoke to the importance of making it law.
Two city councilors – Mary Kay Harris and Kevin Jackson – spoke in favor of the proposed ordinance.
Vanessa Flores-Maldonado, campaign coordinator for the effort to make the CSA law, chastised the members of the city council who didn't attend the meeting and said, "the whole community is noticing what is happening here."
A young man told a story about the time a Providence police officer profiled him based on his skin color, when he was 16 years old.
Stephen Dy, an organizer with the Providence Youth Student Movement, told of the time a Providence police officer took his and his friends' photos to be added to the department's gang database because they visited a friend on home confinement. Dye said he tried to refuse to have his picture taken, but the officer threatened to take his friend to jail unless he acquiesced."
"I felt trapped," Dye said. "I didn't want my friends to be locked up, so I cooperated. We were being divided. We were losing in a war we never even knew we were in."
John Prince, an organizer with Direct Action for Rights and Equality, told of the time Providence police prevented him from recording an incident and entered his home without permission (which RI Future covered at the time.) "You gonna tell me I should feel safe around police?" he said. "I don't feel safe around police."
A Spanish-speaking man said Providence police should use interpreters if they need to communicate with those who don't speak english as their first language. "Police shouldn't act as if they are ICE officials," he said, noting that local police are not charged with enforcing immigration laws.
Many of the speakers were Providence residents of color who had experience being harassed or treated unfairly by Providence police.
Sophia Wright talked about the need to allow people to choose the gender of the person who frisks their body. "When somebody stops you on the street and puts their hands on you … we don't need to be reliving traumatic experiences," she said.
Hillary Davis, a policy expert with the ACLU, said the CSA is "common sense and completely necessary."
Martha Yager, of the American Friends Service Committee of Southeastern New England, spoke about prohibiting the use of private cell phones by the police for work purposes. "We do insist there needs to be better policies on all equipment," she said. "We want to prepare for the use of personal cell phone for work purposes and establish the following standards for any recording devices whether dash cam, body cam or recording phones."
Randall Rose, of the Rhode Island Coalition for Human and Civil Rights, also spoke about unregulated surveillance by Providence police. "There hasn't been a lot of accountability," he said. "There hasn't been the ability of the public to see what police and other forces are doing with the information that they collect."
"We believe this policy," said Deborah Wray, "will improve the quality of life for citizens."
Special thanks to Carlos Romero for the video.
Community members press for Community Safety Act

,