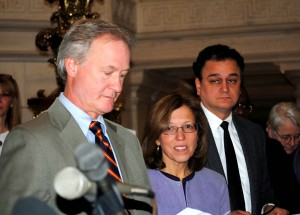 What works for Seattle doesn't necessarily work for Providence, said a Chafee spokeswoman when asked if the governor supports legislating a statewide minimum wage.
"Because of our uniqueness and size, sound economic policy for Rhode Island calls for a statewide minimum wage rather than a patchwork of wage thresholds," said Faye Zuckerman, Governor Chafee's communications director. "The Governor is cognizant of how different geographically we are from many other states such as Washington."
Although the issue isn't the same as in Seattle, which recently enacted a $15 city-wide minimum wage, the governor was responding to a municipal minimum wage issue. A group of hotel workers did an end-run around the traditional minimum wage debate by petitioning the Providence City Council to implement a $15 minimum wage for the hotel industry.
After considerable political jockeying, the City Council voted last night to put the issue on the November ballot. But that happened shortly after the state House of Representatives passed a budget item that prohibits cities and towns from setting a minimum wage higher than the state rate.
The state Senate is poised to act on the budget bill Monday. "I can say there is agreement on the budget," said Senate spokesman Greg Pare.
Zuckerman offered no hints if the governor will sign the budget, saying he "is still reviewing and evaluating the budget. He will examine the budget as a whole and then make a decision."