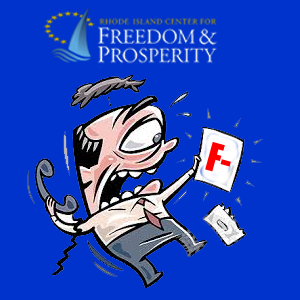 As more and more Americans accept the obvious reality that economic benefits don't trickle down, that they're not part of economic growth and that global warming is both real and expensive, conservatives need to reach further afield to support their losing arguments. Nothing shows this more clearly than the Rhode Island Center for Freedom and Prosperity's latest research report.
This time, their trying to gin up anger to the states Renewable Energy Standard and the electricity surcharge that funds it. Like all their reports, it's a laugh-riot full of skewed findings and childish assumptions.
Nobody has the time to parse every piece of tomfoolery in the report. I just want to touch on their major findings and a couple of other tidbits.
(Not very) major findings
Like all their reports, this is a solution in search of a problem. News flash: renewable energy efforts cost money. Duh. Alternative energy is more expensive than fossil fuels. Duh. Perhaps saving money is not the totality of the point here. Cheap electricity isn't the solution; it's the problem.
These boys also need to realize to whom they are in opposition—and it ain't just pinkos like me. Insurance companies tolerate none of these shenanigans because they are on the hook for global warming-driven weather catastrophes. Securing America's Future Energy is mostly old-school, big-business and right-wing. Even the US Army recognizes how vulnerable we have made ourselves by insisting on fossil fuels.
RI F&P represent a far-right fringe community that is drifting further and further from even the GOP. One of the tidbits will point this out in all its glaring ugliness.
The first major finding reports that RI's RES will cost ratepayers $150mm in additional energy costs over the next seven years. They then tie this seemingly giant amount of money to a struggling economy. But that's just silly when compared with another energy-related cost increase: gasoline.
Because oil prices have exploded over the last decade, Rhode Islanders pay an additional $400mm each year just to get around. (That's a conservative, back-of-the-envelope estimate; it could be as much as $600mm, depending on household size, driving distance, etc.) Over the same seven year period, this would come to $2.8b—almost 20 times more than the electricity rates. Imagine what that sum of money could do for our beleaguered public transit system.
The only other major finding they offer seems to be a typographical error. They claim that electricity rates will increase an additional 1.85% by 2020. TWO PERCENT! Seriously, either they misplaced the decimal point in that one or they need to look up the definition of the word "major."
Hysterical tidbits
First off, the charts in this piece are distinctly poor. Because they lack clear labels, they don't deliver much impact. Maybe this is intentional because the underlying data are weak. Or maybe they just glossed over the details. Either way, it's really unprofessional.
Take a look at Table 6 on page 11. It mixes dollar costs and megawatt hours. Only they don't bother to tell you which column uses which metric. Something in the chart represents thousands of somethings (000). My guess is it's thousands of megawatt hours. But that would make the dollar amounts pretty small. Oh, they're probably per household per year. Again, how can you tell.
More significantly, they make quite a bit out of the idea that states with RES mandates have higher electricity rates. They draw this from a study by the Centennial Institute's Kelly Sloan. Where to start…
The report seems to imply a causality—that renewable mandates drive electricity rates—but the underlying report only states an apparent correlation. What's more, even a cursory analysis shows that many other factors likely drive electricity rates.
For example, Sloan's report has top and bottom 10 lists. The top 10, of which RI is a member, includes seven geographically contiguous, northeastern states stretching from New Jersey to New Hampshire. More importantly, Alaska stands as a glaring honker at number five. Alaska has no renewable mandate and is a major producer of fossil fuels. Clearly, factors other than renewable standards drive electricity rates. So this whole strain of thought is a childish red herring thrown in as if nobody would bother to look at the underlying data.
(For additional laughs, check out the Centennial Institute, a think tank at Colorado Christian University. These are the wacko birds the arch-liberal John McCain talks about. How wacko? Dick Morris and Mike Huckabee are on a poster from their 2013 conference under the heading "Cool Kids." I mean…right?)
Equally childish, we find the assertion that the shale oil boom in North Dakota will yield lower energy costs. That is, in a word, insanity. The shale boom would never have happened but for the high oil prices that make this kind of extraction profitable. At no time in the future will oil prices decline in a significant way. That is a right wing pipe dream that they really need to get over.
Finally, we see the continued insistence that natural gas represents the ecologically sound and cost effective source of future energy. Disregard the fact that while they were writing this report, natural gas prices doubled. This concept requires the two-dimensional worldview that greenhouse gas emissions associated with natural gas represent the totality of its environmental impact. Nothing could be further from the truth.
Non-traditional gas extraction (aka, fracking) remains the biggest looming threat to the US environment. Most realistic thinkers assume that the absurd rules the gas industry somehow finagled out of the EPA are a legal smokescreen to hide an ugly, ugly reality.
This is almost certainly a case in which what we don't know will kill us. Because the specifics of this practice remain cloaked in secrecy, environmental activists can only hunt-and-peck to find environmental impacts. But already, anecdotal evidence is showing that major fracking operations have major impacts. If, for example, fracking causes minor earthquakes, how is it plausible that any unrecovered chemicals won't leech into ground water? Also, what chemicals does this extraction technique use? That might be a nice thing to know.
At some point in the near future, something horrible is going to happen to a community that has taken the money the gas industry offered. At very least, that's a better bet than lower oil prices.
Please follow your own advice
For all of our sakes, the Rhode Island Center for Freedom and Prosperity should follow their own recommendations in a very real, money-where-your-mouth-is kind of way.
First, sell oil futures short. It's only a matter of time before the shale glut collapses prices, right? Second, buy coastline real estate…and live there. Global warming is a liberal myth, so there's no chance that you'll get swept out to sea in a mega-storm.
That's the sort of thing that only happens in New York City. And you know what kind of commies they are down there!
Cheap electricity isn't the solution, it's the problem

,