Browse:
Home
/
Renewable Energy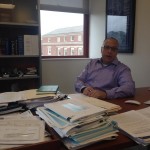 By Bob Plain on August 21, 2016
Jeff Grybowski didn't set out to save the world from climate change. The CEO of Deepwater Wind, which just completed construction of the nation's first offshore wind farm, wasn't trying to be the first in the United States to commercially harness the offshore breeze and, in the process, potentially create a new sustainable industry for […]
Posted in Business, Climate, Energy, Featured | Tagged Block Island wind farm, Deepwater Wind, Economy, Jeff Grybowski, offshore wind, Renewable Energy, Rhode Island | 1 Response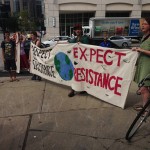 By Elisha Aldrich on August 5, 2015
The plant, called the Clear River Energy Center, would utilize fracking to generate energy with natural gas. Fracking is a process that involves drilling into the earth, and then shooting a high-pressure water mixture at the rock to release the natural gas inside… the process uses huge amounts of water that must be transported to the site. Second, many worry that dangerous chemicals used in the process may contaminate groundwater around the site. There are also concerns that fracking causes small earthquakes.
Posted in Activism, Climate, Economics, Featured, News, Politics, Rhode Island, State House | Tagged clean energy, Clear River Energy Center, Environment, fang, Fossil Free Rhode Island, fracking, Gina Raimondo, Invenergy, Renewable Energy, Rhode Island Sierra Club, Robert Malin, sierra club, Stephen Dahl | 14 Responses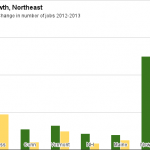 By Bob Plain on February 20, 2014
The number of jobs in the bustling solar power industry grew by 62 percent last year in Rhode Island – an increase of 130 jobs from 2012. But as Progressive Charlestown points out, we're still lagging far behind every other state in the northeast in this regard and we were one of the worst state's […]
Posted in Featured | Tagged green energy, Renewable Energy, Rhode Island, solar | Leave a response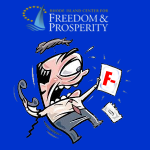 By Frymaster on February 10, 2014
As more and more Americans accept the obvious reality that economic benefits don't trickle down, that they're not part of economic growth and that global warming is both real and expensive, conservatives need to reach further afield to support their losing arguments. Nothing shows this more clearly than the Rhode Island Center for Freedom and […]
Posted in Economics, Featured | Tagged fracking, justin katz, Renewable Energy, Rhode Island Center for Freedom and Prosperity, stink tank | 4 Responses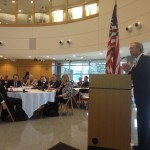 By Bob Plain on October 18, 2012
The independent governor of Rhode Island is going to Washington D.C's premiere progressive think tank to talk about renewable energy policy on Friday. Linc Chafee will give the opening remarks at the Center for American Progress for a discussion billed as "Regional Energy Solutions, Moving Beyond 'Drill, Baby, Drill'" According to a press advisory on […]
Posted in Events, Featured | Tagged center for american progress, chafee, Renewable Energy | Leave a response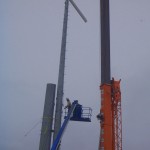 By Tracey C. O'Neill on May 4, 2012
Among dark and cloudy skies, the East Matunuck State Beach pavillion construction project saw the rise of its newest addition Thursday, a 120 ft., 10-kilowatt wind turbine. One of DEM's renewable energy projects, the wind turbine, along with solar panels installed on the facility's roof will generate 21,000 kilowatt hours of electricity per year, saving […]
Posted in Featured | Tagged Beaches, Environment, Renewable Energy, south kingstown | 2 Responses