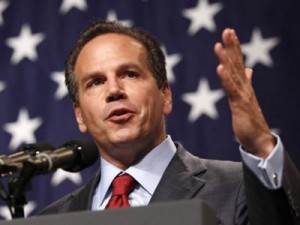 On the Huffington Post and on the House floor, Congressman David Cicilline has come out strong against the House GOP budget proposal.
Today, after voting against it yesterday, he penned an op/ed for the Huffington Post today critical of the bill writing, "less than a year after a similar proposal was defeated, the House Republican leadership held a vote on a budget proposal that would extend tax cuts for the wealthiest Americans, make deep cuts to programs that serve middle class families and end the Medicare guarantee for our seniors."
Cicilline spoke out against the bill earlier in the week saying, "My home state of Rhode Island has one of the highest unemployment rates in the country. My constituents need common-sense solutions that will create jobs and get our country back on the right track not another extreme proposal from the House Republican leadership."
He said the bill would give the richest Americans an average tax break of $150,000 a year.
The top-down budget proposal passed the Republican-controlled House largely along party lines. Politco said of the bill:
"Just 10 Republicans defected, and the 228-191 vote gives the embattled GOP leadership what it most wanted: a show of party unity behind a bold election-year vision that includes new private options for Medicare and a simplified Tax Code. But the price paid by Congress will be big: wrecking havoc with hard-fought bargains under the Budget Control Act and inviting another shutdown fight with Senate Democrats and Obama unless the House again reverses course."