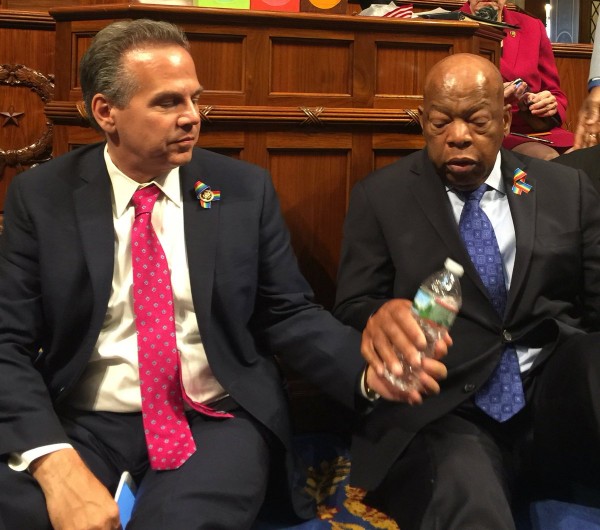 Following on their successful sit-in action last week on the House floor to call attention to gun violence in America, Rhode Island congressmen David Cicilline and Jim Langevin are hosting a local action called "No More Silence: A Public Sit-In to Reduce Gun Violence."
The event will be on Wednesday, 3pm at the Providence Public Safety Complex.
Cicilline and Langevin both participated in the historic sit-in on the House floor last week that was organized to call attention to the GOP's inaction on gun safety following the horrific Pulse massacre in Orlando that left 49 innocent people dead.
The follow-up event is being billed, by Cicilline spokesman Rich Luchette, as an opportunity to "discuss ways for Rhode Islanders to continue to push Republicans in Congress on 'no fly, no buy' and universal background checks," he said.
Cicilline was an organizer of the 26-hour House floor sit-in, along with Georgia Congressman John Lewis, which for 12 hours prevented Republicans from conducting congressional business.
"Republicans can no longer ignore the voices of millions of Americans who are demanding commonsense legislation to address this epidemic," Cicilline said in a statement following the protest action. "It is shameful that Speaker Ryan, using a procedural maneuver, adjourned the House in the dark of night, shortly after his party voted for another Wall Street giveaway, so that Republicans would not have to address the very real impact of gun violence. This isn't Wall Street's House – it's the People's House – and it's time Republicans start acting like it by addressing the important issues facing American families. When the Speaker calls the House back into session we will continue to stand up once again for our constituents who are demanding we take action to reduce gun violence in our country."
In a letter to congressional colleagues, the six organizers of the sit in wrote:
Dear Colleagues:

This week, Democrats in Congress made history while the world watched.  Our sit-in showed that the Republican Leadership can no longer ignore the epidemic of gun violence.  A movement was born and will only continue to grow.

We ask you to join us in a National Day of Action on

June 29, 2016

.  While you are back home in your District, you can continue to build the momentum and engage your community.  Whether it a press conference, roundtable, or telephone town hall, we encourage you host an event showing that Democrats in Congress will keep up the fight against gun violence.  Local partners including survivors, law enforcement and faith leaders can be excellent partners and can help carry our message even further.

We look forward to working with you as we continue our fight to bring commonsense, bipartisan, gun violence prevention legislation up for a vote. Together, we can give voice to the overwhelming majority of the American people who want to see their Congress take action to help keep our communities safe.

Sincerely,

John Lewis

John B. Larson

Katherine M. Clark

David N. Cicilline

Robin Kelly

Mike Thompson
Cicilline, Langevin hold gun safety 'sit-in' Wed in PVD

,