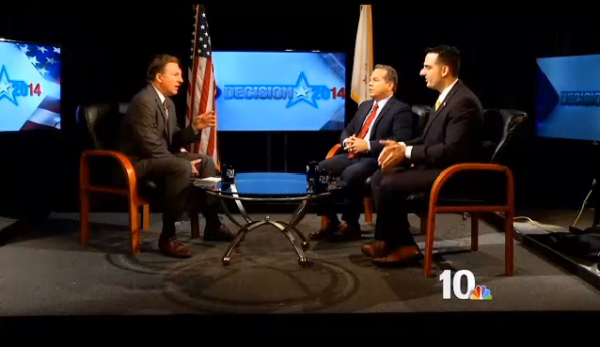 Congressman David Cicilline and his Republican challenger Cormick Lynch win the prize for the most spirited debate of the 2014 election cycle.
Twice did NBC 10 News Conference host Bill Rappleye ask Congressman David Cicilline and Republican challenger Cormick Lynch not to touch each other during the shouting match, as well as one phrase ("BS") perhaps not suitable for children (it airs at 11:30 Sunday morning).
And, oh yeah, one unicorn reference.
News, Weather and Classifieds for Southern New England
"People are sick to death of the Democrat and Republican BS." said Lynch. Which is certainly true, but this was his response to Cicilline talking about raising the minimum wage, bringing manufacturing jobs back to Rhode Island and the United States, rebuilding roads and bridges and lowering the cost of higher education.
When asked, pretty directly, why he is opposed to raising the minimum wage, Lynch began, "It's not the liberals aren't intelligent…." but eventually got around to indicating Rhode Island should model its economy after North Dakota rather than raise the minimum wage. He stressed working with the state leaders to lower the corporate tax. "We need to attract businesses here."
Cicilline: "Raising the minimum wage is going to help lead to job growth because what happens, Bill, is that when people have more money in their pocket who are minimum wage earners they spend that money."
Lynch: "Congressman what color was the unicorn you rode in on? And what planet did it take you here from. There's no customers coming into anyone's business in Rhode Island. That's why we are in the state we are in."
All that, just in the first segment. Here's the second:
News, Weather and Classifieds for Southern New England
I think it's fair to label Lynch a hawk. "I think it's not politically correct to say, stop trying to democratize countries and kill the enemy. These guys gotta go. I wouldn't rule boots on the ground out. If you need someone to board a flight and go over there, I'd be more than happy to go over there myself."
Based on the way he debates, ISIS should be afraid.
Rob Paquin and I discuss here: