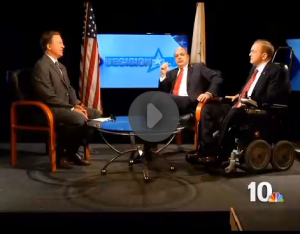 Congressman Jim Langevin, the Democratic incumbent in the second congressional district, and his Republican challenger Rhue Reis disagree on a terms limits and boots on the ground in Iraq during their NBC 10 News Conference debate.
(You can watch the David Cicilline v. Cormick Lynch CD1 debate here)
News, Weather and Classifieds for Southern New England
In the second segment, Langevin and Reis disagree on the minimum wage. Langevin says he's open to lowering the corporate tax rate, but would like to see other reforms as well. Reis says Rhode Island doesn't need to increase workforce training.
News, Weather and Classifieds for Southern New England
RI GOP's Rob Paquin and I discuss: