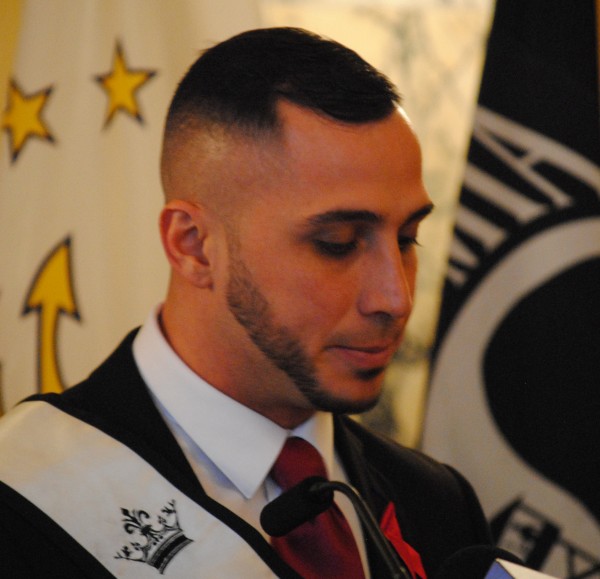 Richie DeFilippo, the reigning Mr. Gay Rhode Island 2015, gave the following talk about the importance of PrEP, as part of World AIDS Day at the State House.
I feel honored for the opportunity to speak with you today.  After living in the city of Providence for 12 years, I began the quest for this title after having many conversations with members of our community who had not yet heard of PrEP or Truvada.  PrEP, pre-exposure prophylaxis, is a pill that when taken daily protects your body from contracting the HIV virus.  I saw that we needed to educate our community about the importance of protecting ourselves.  And since being crowned, I have being doing just that.  I have had many one on one conversations with friends, acquaintances and strangers who wanted to know more, but did not know who or where to go.
In my role, I have been happy to spread the word about PrEP and have been joined by many members of our community with this outreach.  At this year's PrideFest, many organizations that are represented here today and many community volunteers all made a statement in wearing a shirt that said I take PrEP.  Creating a sea of Truvada blue tee shirts that answered questions, "like what is P.R.E.P?," "How does it work?," "Where can I get it?," and most commonly asked "How much does it cost?"
So standing here today I ask all of you, our honorable legislators and leaders to think about the following issues surrounding PrEP.
While programs, including condom distribution, peer outreach, HIV and STI testing and treatment, have been effective regarding prevention efforts amongts gay and bisexual men, they have had little influence on decreasing the incidence of HIV infection amongst this population.
In addition, these efforts do not necessarily provide education about PrEP, and do not address the specific barriers these men face with respect to PrEP initiation, and subsequent adherence.
Barriers to PrEP Initiation
Numerous studies have shown that gay and bisexual men, overall, have limited knowledge of PrEP, and among those who are aware of PrEP, there remain many unanswered questions in deciding whether PrEP is right for them. This is not surprising as the diffusion of new knowledge clearly takes time, but certainly more can be done to educate gay and bisexual men about PrEP.
A few examples are targeted PrEP media campaigns, community forums at venues where gay and bisexual men congregate, and on online hookup sites, such as Grindr and Scruff.  What is most important to highlight, in my opinion, is once PrEP was described to the men in these studies, interest in the use of PrEP was very high.
Real World Issues
To date, studies of PrEP initiation have largely been limited to settings in which PrEP is provided free of charge, almost universally by Gilead Sciences, the manufacturer of the drug. Barriers to PrEP initiation in real world settings are much more complex, since payment for PrEP can be a substantial financial burden, particularly without health insurance coverage or large annual deductibles or associated prescription co-pays.
Although most health insurance programs are covering the cost of PrEP, and the Gilead Truvada for PrEP Medication Assistance Program exists to assist people who do not have health insurance, these programs require patient and clinician awareness, sufficient staff training to overcome system challenges and the ability to work through barriers that may come up while providing a reliable infrastructure for carrying out the work.
Medical Providers
As it relates to medical providers, studies have shown a misinterpretation of the results of PrEP efficacy trial data. This raises concerns about how to best educate physicians to translate the results of the PrEP studies to their patients. These concerns suggest that educational interventions designed to increase physicians' awareness and interpretation of PrEP study data may be needed to optimize PrEP provision. Studies have also shown that generalists (primary care docs) are less familiar with PrEP efficacy results than were HIV specialists. This is particularly relevant since most persons at risk for HIV are not likely to seek care from HIV specialists.
Given that physicians are not often comfortable discussing sexual behavior with their patients, innovative provider education programs are needed for PrEP to be more widely available.
Additionally, given the well-documented links between physicians' concerns about PrEP and their prescribing intentions, educational interventions that provide information on the safety of PrEP, and its anticipated financial impact on HIV prevention budgets, may be most effective in motivating physicians to appropriately prescribe PrEP.
Barriers to Taking PrEP Once Prescribed
In addition to some of the challenges and misinformation I just spoke about, there are additional barriers of taking PrEP once it is prescribed. The effectiveness of PrEP is closely tied to adherence, and evidence suggests that effectiveness decreases exponentially with fewer doses of PrEP per week. When 6-7 doses are taken per week, maximum effectiveness of PrEP is achieved and when at least 4 doses per week are taken, patients still have a high level of protection.
From scientific literature and my own personal ties to the gay and bisexual male community, we know that certain subgroups of gay and bisexual men face multifaceted challenges to optimal adherence, including stigma, inconsistent routines, substance use, depression and other mental health problems.
In addition, victimization, fluctuations during periods of sexual risk, and potential perception by their sexual partners that they are HIV positive can also deter individuals. Concerns and questions around insurance coverage and access to financial assistance also are significant challenges that may affect both initiation and adherence to PrEP.
In closing, I feel that the development and testing of an intervention that addresses the barriers and facilitators to PrEP uptake and adherence among gay and bisexual men is necessary to ensure maximum PrEP effectiveness.
I would like to thank Dr. Phillip Chan and Dr. Matthew Mimiaga for their support and guidance and The Rhode Island HIV Prevention Coalition for having me here today. I hope you will all join me in continuing to educate our community about the opportunity and effectiveness of PrEP as we work together to stop the spread of new infections of the HIV virus.
Spreading the word about HIV prevention with PrEP

,