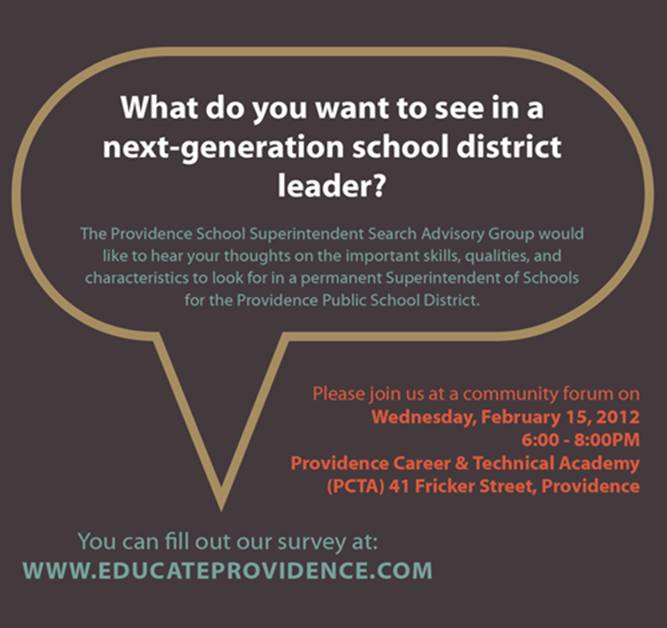 From the Educate Providence website:
Providence, like the rest of the country, faces significant challenges in ensuring that all of its children and youth have access to educational options that enable them to succeed in school and life. With shrinking budgets for school systems, increasing economic hardships and a fragmentation of the public and private systems that support children and families, we need new models and strategies to prepare children for their futures. A new consensus is emerging about educational excellence: It comes from a focus from cradle to career; requires academic, social and emotional supports and preparation; involves both integrated in- and out-of school approaches; and calls for all types of schools and academic strategies to meet the needs and interests of diverse learners.

In Providence, previous reforms, initiatives and efforts have brought glimpses of change, but none have translated into the fundamental educational improvements that our children and youth deserve. It is time to take significant and swift action to deliver quality education and programming that better prepares and enables our children to succeed in life.

Mayor Taveras formed the Education Opportunity Working Group (EOWG) in June 2011 to assess the Providence educational and community landscapes for strengths, weaknesses and opportunities by examining quantitative data and having qualitative discussions with a range of stakeholders. From this data-gathering and analysis, the EOWG was responsible for recommending goals, strategies and related indicators in alignment with the Mayor's overall goals for reform implementation, both in and out of schools. Members of the EOWG, representing a diverse set of constituencies, include:

Bill Bryan, senior project executive, Gilbane, Inc.
Dawn Clifton, leader, Providence Public School Department Parent Advisory Council
Lee Keizler, leader, Providence Public School Department Parent Advisory Council
Nicole Mathis, principal, Nathanael Greene Middle School
Elizabeth Melendez, Spanish teacher, E-Cubed Academy High School
Keith Oliveira, member, Providence School Board
Angela Romans, senior advisor on education, Mayor's Office, EOWG chair
Warren Simmons, director, Annenberg Institute for School Reform at Brown University
Andrew Snyder, director, Rhode Island College Education Leadership Program
Kenneth Wong, chair, Brown University Education Department

The EOWG was formed as a committee of the Children and Youth Cabinet (CYC,) a stakeholder group formed in early 2010 and convened by Mayor Taveras in early 2011, comprised of City officials, school department staff and community organizations. A key focus of the CYC is to improve collaboration in and out of school and across a variety of stakeholders in order to improve outcomes for children and youth in Providence. Numerous community organizations, many of which have participated in the CYC, are committed to lending their resources and talents to improving outcomes from "cradle to career.