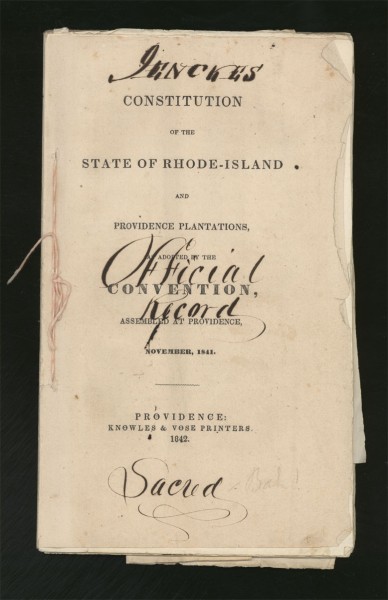 Rhode Island has had 11 constitutional conventions since becoming a state, according to State House Historian Tom Evans. But it wasn't until the 1973 "concon" that holding one became a once-a-decade decision for voters.
"Prior to that, the General Assembly would call for it," Evans said.
Following the 1973 convention, voters approved a referendum question "to require that a ballot question calling for a convention to amend or revise the Rhode Island Constitution be placed on the ballot at least every ten (10) years," Evans wrote in this document. "If the General Assembly fails to place the question on the ballot at some time during any period of ten years, then the Secretary of State must place the question on the ballot at the next general election after the expiration of the ten-year period."
And so, question 3 on this November's ballot will ask Rhode Islanders if we'd like to have a 12th constitutional convention, a process by which we can amend the state constitution.
If approved, delegates will run for one of 75 seats at the convention. There would probably be a special election next year. Then, in a public debate akin to a legislative session, vote on questions to put before a vote of the people. Ideas have ranged from a line-item veto for the governor to a codified constitutional right to an equal education.
Advocates of a so-called concon in Rhode Island this year tend to be conservative, and tout it as an opportunity to reform government. Skeptics, including many influential progressive organizations like the ACLU and AFL-CIO, say a concon can be easily influenced by anonymous outside money. Many Democrats fear abortion rights would be vulnerable.
No state has held a constitutional convention since Rhode Island did in 1986, according to the Washington Post. The '86 concon has been well-documented here, here and Common Cause RI has a page here. Voters have since rejected the idea twice. In 2004 it failed 48 to 52 percent, and in 1994 it failed 41 to 59 percent.
READ COMMON CAUSE EXECUTIVE DIRECTOR JOHN MARION's CONCON POST.
History
The first constitutional convention in Rhode Island occurred in 1824, when Rhode Island was still governed by a charter from the king of England. The Ocean State adopted its first official constitution 18 years – and four such concons – later, according to Evans. "Bowing to increasing unrest," he writes, the General Assembly called for a convention following the Dorr Rebellion.
In December of 1841, Thomas Dorr put forward what Evans calls an "extralegal … People's Constitution" that was approved by voters 13,944 to 52 – and Evans writes that almost 9,000 votes were deemed ineligible. Earlier that year the so-called "Landholder's Constitution" was rejected by voters 8,698 to 8,013. The first constitution was approved by the voters on November 21, 22 and 23 of 1842 by a near unanimous vote of 7,032 to 59, reports Evans.
Then constitutional conventions fell out favor with Rhode Islanders. There wouldn't be another one for 102 years. Voters rejected a call for conventions in 1853 and 1882, Evans writes. And in 1883, the state Supreme Court issued an opinion that the state constitution can't be amended via a convention.
In 1944, Rhode Islanders voted 15,683 to 524 to have a "limited" constitutional convention to address "voting rights for members of the armed forces and merchant marine," Evans wrote.
During the 1950's there were three conventions conventions. In both 1951 and 1955, delegates put forward pay raises for legislators and lifetime appointments for judges. Rhode Island voters rejected both measures both times. In 1951, a poll tax was repealed and "Home Rule Charter for Cities and Towns" was approved. Voters approved increasing the "Borrowing Power of the State" in 1951 and "Redevelopment for Off-street Parking" in 1955, according to Evans.
Former governor and Providence mayor Dennis J. Roberts would chair a constitutional convention that would begin in 1964 and not end until 1969. It put forward "approving a revised Constitution on December 4, 1967," Evans wrote, which was then "overwhelmingly rejected by a vote of 17,615 yeas to 69,110 nays" in April, 1968."