I recently wrote a short op-ed for Providence Journal about the state of Gilbert Stuart Middle School demanding action be taken with regard to the physical state of our local schools.
A recent RI Future article published pictures from inside of this school, which show – even if only in part – how poor the conditions of the physical school buildings actually are in urban Rhode Island.
Having been inside this school in particular, I'd say these are just an additional glimpse at the many physical problems the school has.
Beyond the asbestos curtain, peeling paint, and falling roof tiles, I find myself concerned about the prospect of the leaky roof and the resultant mold, as well as the state of the school's potable – or perhaps non-potable – water.
The photos do provide a much more accurate depiction than Linda Borg's Aug. 23 article for Providence Journal ("Superintendents say deferred maintenance in Rhode Island schools is driving up costs") I wrote the critical op-ed in response to an article that seemed more like acquiescing political coverage and a public relations stunt than an honest consideration of how bad the schools are. These are public buildings occupied by students and teachers and they are being left to rot because of poor budgetary management.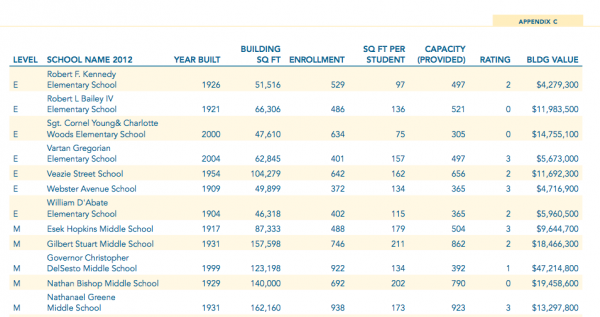 The RI Future article also was beneficial for pointing out the school's score on the 2013 RIDE report, where Gilbert Stuart received 2 out of 5, on a scale where 5 is the lowest score (2 being considered "generally good condition, some system needs. Minor renovations.").
Looking at the photos, and having actually been inside of the building itself, makes me question the report itself, and how honest it is being about the living conditions inside of schools. I tend to think leaking roofs, likely mold, and an asbestos curtain puts the school in a category that's much worse than just being in need of "minor renovations." One wonders if the people grading the schools have looked at so many bad schools, so many schools so much worse than Gilbert Stuart, that their sense of what is acceptable has become clouded.
What struck me the most about the report, is that the average condition of schools in urban and rural locations is worse than the condition of Gilbert Stuart according to the organization's grading scale. Urban schools received an average condition rating of 2.25, and rural schools received an average rating of 2.19. Suburban schools were only slightly better on average than Gilbert Stuart, receiving an average rating of 1.85. In other words, Rhode Island has many schools in just as bad, if not substantially worse, condition than Gilbert Stuart.
It is also worth noting that these schools are worth a lot of money (the report values Gilbert Stuart at $18,466,300) and they're being left unrepaired in ways that are detrimental to the buildings themselves. But that feels besides the point, as these are public buildings being occupied by people, and I tend to think that moldy buildings with asbestos in them are detrimental to the people occupying them.
There is a kind of slow, horrible violence being done against the students and teachers expected to occupy these buildings. This is not just some minor budgetary hiccup: something drastic needs to be done about the condition of these schools for the sake of the children and teachers who spend their days inside the schools.
Condition of PVD schools: 'a kind of slow, horrible violence'

,