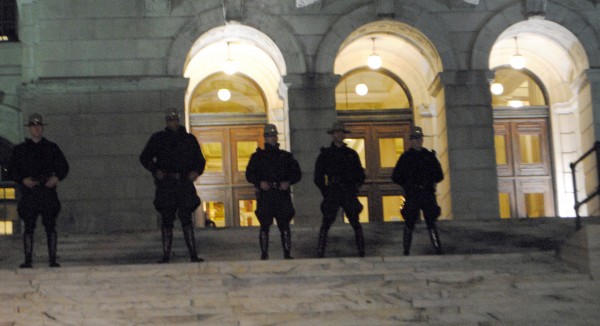 I don't know the firefighter who stood in the window, fist raised in solidarity with the protesters rallying outside the Providence Public Safety Complex a week ago. I don't think anyone could tell who the figure was or what occupation the person might be employed in. All I could see was a silhouette, a literal shadow of humanity, demonstrating commonality with the protesters as a human being with emotions, thoughts and concerns.
What could I know about the figure in the window? I couldn't be sure of the figure's race or ethnicity. Medium build. Average height. Might be a man but in truth, until Commissioner Paré used identifying pronouns, I couldn't be one hundred percent sure of gender.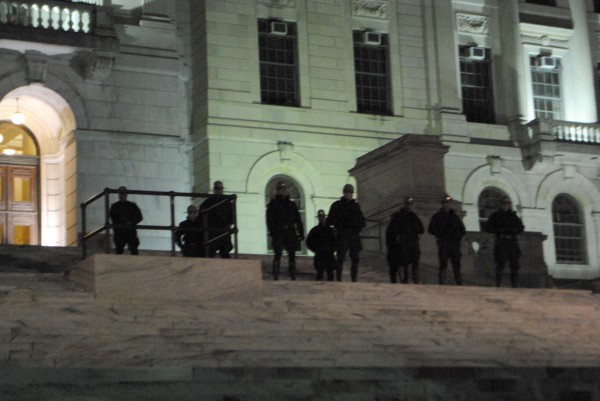 All I could see was a human being, making contact, sharing the same pain and concern as those assembled below. I could have made up a thousand stories about the figure in the window, guessing at his or her reason for choosing to raise a fist in solidarity, but somehow, I never doubted the intentions of the act. Somehow the simple gesture of raising a fist in shadow communicated both solidarity and sincerity.
It was a meaningful, touching gesture.
Even those who believe that the firefighter's actions were completely unwarranted and somehow a betrayal of his duty do not doubt the sincerity of the action. This was obviously not an act of mockery but an act of solidarity, and this came through even though the figure was only a silhouette, a shadow in the window, visually more symbol than human. The humanity of the act was palpable, almost psychic.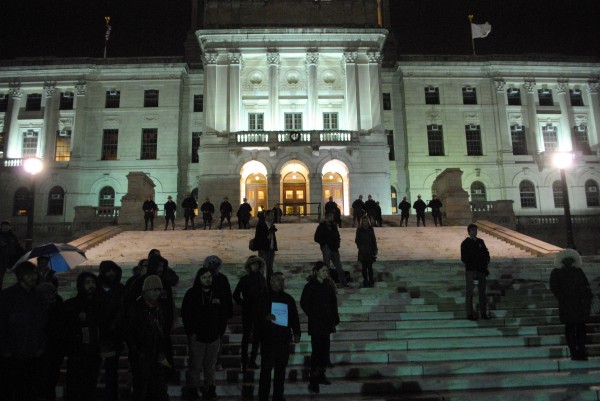 Commissioner Paré recognized the humanity of the action immediately. It was the sincerity of the gesture and the humanity expressed that made a silhouette with raised fist so dangerous. For the system to work, one side must be strong, powerful and monolithic and the other side must be weak, compliant and diverse. When the strong show tenderness and tolerance or the weak demonstrate strength and solidarity, the system strains to breaking, and punishments must be meted out.
I feel sad that my footage has caused the firefighter censure and official punishment. Commissioner Paré says the firefighter should have remained neutral, but were the disdainful looks or dismissive chuckles of other figures in the windows neutral? Dismissive attitudes also lack neutrality, yet it never occurred to me or the protesters to note such attitudes, because they are common. It seems neutrality is only neutral when it serves those in power.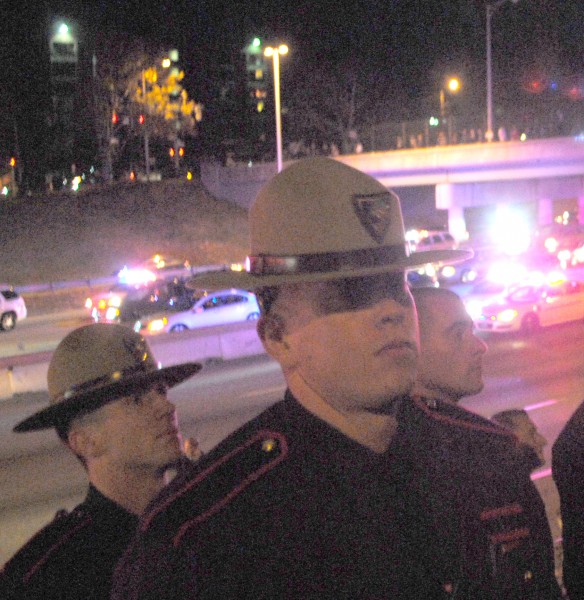 If in the future I film police officers at protests laughing or taking a dismissive attitude towards the activists, will Commissioner Paré take them to task for their lack of neutrality? Perhaps the police should wear helmets to hide their emotions and mask their humanity. No one can see the tears of a stormtrooper as the trigger is squeezed.
Neutrality über alles.
---
---
Support Steve Ahlquist!
Flow my tears, the fireman said

,