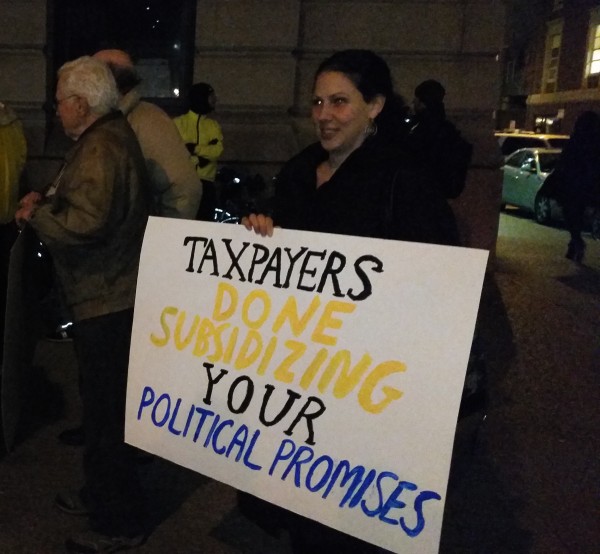 On Thursday night the Providence City Council Finance Committee was prepared to make a decision on a controversial extension of tax stabilization agreement (TSA) for the property at 100 Fountain St.  Because of the unexpected death of former Mayor Vincent Cianci, the meeting was rescheduled to this Tuesday night at 6pm, one hour before Governor Raimondo's State of the State address.
The proposed TSA will allow the property owners to pay only 25 percent of their assessed taxes in the first year, with a 15 percent increase each year thereafter until year five, when the owners will pay 95 percent of their assessed taxes. The owners stand to save hundreds of thousands of dollars, but the STEP Coalition (Stop Tax Evasion in Providence) has pointed out that, "[t]he construction jobs are long gone and these buildings have been occupied for quite some time."
This is the first of four TSAs that will be voted on by the City Council this year. The four "deals pending before the city right now are even more egregious than usual," said the RI Progressive Democrats (RIPDA) in a statement. "That's because the development has already happened. There's no question of encouraging development–the developers want their special tax deals to continue. This is just giving the city's limited tax dollars to big developers.  Pure and simple," said the RI Progressive Democrats (RIPDA).
It is expected that the Providence City Council will raise property taxes on homeowners this year as Providence struggles financially. Many wonder why private taxpayers continue to pay ever higher taxes while connected developers get continued tax credits. STEP presented a petition signed by 400 Providence residents opposed to extending these TSAs.
The following City Councillors are on the Finance Committee:
Councilman John J. Igliozzi, Chairman
Councilman Terrence M. Hassestt, Vice-Chairman
Councilman Kevin Jackson
Councilwoman Sabina Matos
Councilwoman Carmen Castillo
Controversial TSA to be quickly decided on a busy night

,