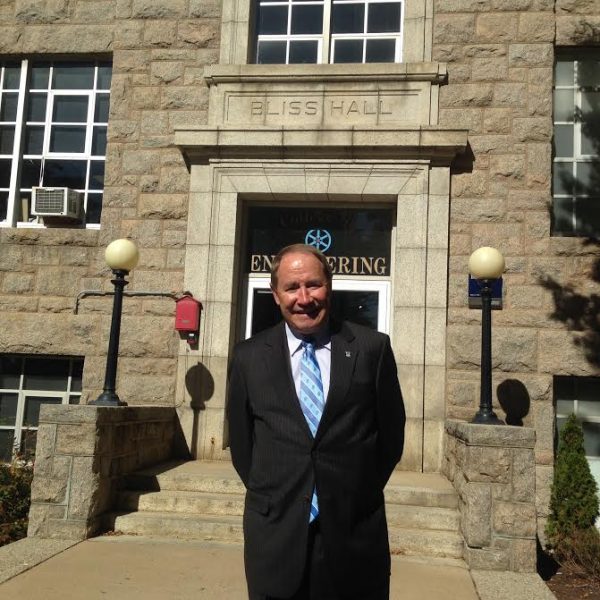 There are two University of Rhode Island projects that would benefit if voters pass Question 4 on the statewide ballot this November.
One is a $25.5 million upgrade to Bliss Hall, a prominent classroom building on the Quadrangle at the center of campus that was built in 1929, and "hasn't really been renovated since then," said URI President David Dooley in a recent interview with RI Future.
"The exterior will look exactly the same except the air conditioners won't be sticking out the window any more because we will have state-of-the-art HVAC," Dooley explained, "and there will be an addition on the back facing all the new engineering construction that will be going on behind Bliss Hall starting next year."
The Bliss Hall renovation is part of an overall $150 million project, started under Governor Chafee, to upgrade the engineering program and its facilities, which Dooley described as a major area of growth at URI.
"We know it is one of our fastest growing colleges," he said, noting there are more than 30 local businesses started by graduates of URI's engineering school. "We know that every year we have more applications to the College of Engineering than we did the year before. We know we can't accommodate all the qualified applicants that want to come here to become engineers."
The second part of Question 4 would direct $20 million to fund "innovation campuses"  – or partnerships with the private sector.
"We want to do things that broadly build a robust and successful economy in this state and in the nation," Dooley told me. "I do think we know enough about the importance of innovation and growing the American economy and keeping America competitive in an increasingly competitive global economy and we know enough about how innovation can fuel not just economic prosperity but also enhance the social fabric of the state and the nation to know that these kind of centers – which are well-precedented, and there are a wealth of success stories out there – can work, can be a magnate for investment in Rhode Island and can attract new talent into Rhode Island as well as create a wealth of new opportunities for the Rhode Islanders that are already here."
Companies would apply in a public process, that has yet to be defined, and provide matching funds. The $20 million could go to several companies, or just one. "We know that they are going be selected on the basis of what looks like a good return on Rhode Island's investment in terms of new jobs, new businesses and economic growth," Dooley said. "How those get translated into very specific points is yet yet to be determined. We certainly expect to play a role in that because we think we have a lot of expertise to share in those areas."
URI already has such partnerships with companies such as Amgen, Hasbro, Ratheon and Schneider Electric.
"We've already got some examples of companies that have come to Rhode Island specifically because they wanted to work closely with URI," Dooley said, mentioning Navatek in Wakefield. "They are a Hawaii-based company. They opened up their second office right here in proximity to URI just so they could work with URI faculty and students on ocean engineering."
Dooley said he was comfortable, both professionally and personally, if a defense contractor started an innovation campus with URI.
"To a degree, I can be comfortable with that because I do think we have a responsibility as the world's leading democracy to provide leadership and in our 21st Century world that continues to mean that in addition to all the robust diplomatic efforts you can mount, you have to have the military capability to say this is what needs to happen or to intervene, if necessary," he said. "That's how I think about it individually, as the president I think about it as our responsibility is really to serve all the people of Rhode Island and therefore that includes individuals who are working in the defense industry here in Rhode Island."
Dooley said he doesn't worry that the matching funds will incentivize the university to educate for the market, rather than for enlightenment. He said URI's general education requirements guarantee that can't happen.
"It is the kind of investment that I think Rhode Island needs to continue to make in order to build not just an economy but a society that is robust and vibrant," he said. "It's about driving education, driving research forward and driving innovation. Because that nexus of innovation, the research, development transfer component of innovation been such a source of growth for the American economy ever since World War II, frankly."
David Dooley on why RI should invest in URI this election

,