Browse:
Home
/
David Dooley
By Bob Plain on March 18, 2018
I don't put much faith in Punxsutawney Phil and I don't live so close to the land that the actual weather makes much practical difference to my life. For me, winter officially ends in the Ocean State when URI plays their last basketball game of the season. There's still snow on the ground but, as […]
Posted in Featured, Sports | Tagged college basketball, dan hurley, David Dooley, march madness, NCAA, Rams, university of rhode island, URI | 6 Responses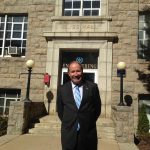 By Bob Plain on October 18, 2016
There are two University of Rhode Island projects that would benefit if voters pass Question 4 on the statewide ballot this November. One is a $25.5 million upgrade to Bliss Hall, a prominent classroom building on the Quadrangle at the center of campus that was built in 1929, and "hasn't really been renovated since then," […]
Posted in Economics, Featured, Rhode Island | Tagged David Dooley, URI | Leave a response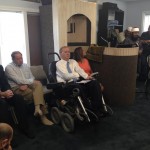 By Bob Plain on July 17, 2016
During an interfaith vigil for peace on Saturday, Rhode Island religious leaders implicitly and explicitly blamed Donald Trump, Newt Gingrich and the Republican rhetoric opposing religious freedom on the national political stage for vandalism that happened at a mosque in Kingston, Rhode Island on Thursday night. "In one sense this incident is an isolated incident," […]
Posted in Civil Rights, Religion | Tagged Adele Bourne, David Dooley, don anderson, donald trump, Farid Ansari, hate speech, Howard Voss-Altman, muslim community center of kingston, Newt Gingrich, Peter Neronha | 3 Responses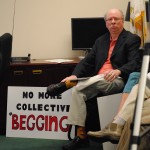 By Steve Ahlquist on June 18, 2015
"We have been in contract negations for almost three years now," said Donnelly, " and we have not had contact negotiations since last December." Donnelly need that these meetings are known for their repeated delays and stalling tactics on the part of URI negotiators.
Posted in Education, Featured, Labor, Photos, Rhode Island, Video | Tagged David Dooley, Peter Nightingale, RI Jobs with Justice, URI | Leave a response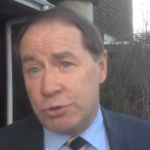 By Bob Plain on March 27, 2012
It isn't often that an editorial is so off-the-mark as to warrant news coverage, but such is evidently the case with the Projo's take on tuition increases from Saturday morning. In an article in today's Journal about a Q&A session with URI president David Dooley, Gina Macris writes: "He spoke at length about the 'great […]
Posted in Economics, Education, Featured, Rhode Island, State House | Tagged David Dooley, occupy uri, Rhode Island, tuition, URI | 19 Responses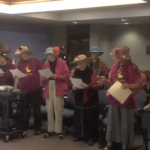 By Bob Plain on March 19, 2012
Protesting years of cuts to public higher education in Rhode Island that have caused rampant tuition increases, Occupy URI mic checked the meeting of the Board of Governors for Higher Education Monday night with a song. While their tactics were lighthearted, the issue is a serious one. The Board of Governors recently approved a 8 […]
Posted in Economics, Education, Featured, Rhode Island | Tagged David Dooley, higher education, occupy uri, tuition | 1 Response