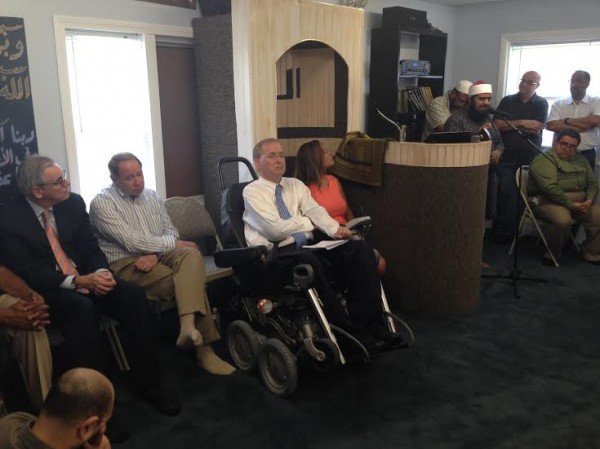 During an interfaith vigil for peace on Saturday, Rhode Island religious leaders implicitly and explicitly blamed Donald Trump, Newt Gingrich and the Republican rhetoric opposing religious freedom on the national political stage for vandalism that happened at a mosque in Kingston, Rhode Island on Thursday night.
"In one sense this incident is an isolated incident," Rev. Don Anderson, the executive director of the Rhode Island Council of Churches who organized the vigil, told the crowd of well more than 100 people who came to be with the members of the Masjid al Hoda mosque Saturday.
"But we also need to understand that this happened in a context," Anderson continued. "It took place in a context where there is irresponsible, hateful speech in our country. It is being applauded by many of our fellow citizens and it demands that we make a statement and stand up together."
The isolated incident in question was an attack on the Muslim Community Center of Kingston, near the University of Rhode Island campus, Thursday night. A vandal broke windows in the mosque and spray painted "Muhammad prophet of butchers" on an outside wall. The context is Trump and other prominent Republicans who foment religious persecution by calling for new rules and regulations to monitor Muslims in America.
"When someone says that all Muslims should be banned from American shores, even temporarily, it hurts us all," Anderson said. "When someone suggests that unconstitutional, anti-American suggestion that every American Muslim has to take a faith test, that is absolutely and positively wrong and we must stand together and acknowledge that and help people to understand that we don't believe that. We do not believe that is the America that we want to live in. and we need to say that long and loud."
Trump, the Republican nominee for president, has called for Muslims to be temporarily prevented from entering the United States. Gingrich, on Friday, said Muslim Americans should be subject to deportation based on a faith test. While Anderson didn't name Trump or Gingrich specifically, other religious leaders did.
"The hatred and the animosity that is being spewed by … I can't even describe them as leaders," said a dismayed Iman Farid Ansari, a well-respected leader in the local Muslim community. "For Newt Gingrich to even suggest that there's a test… What is it about freedom of religion that he doesn't understand?"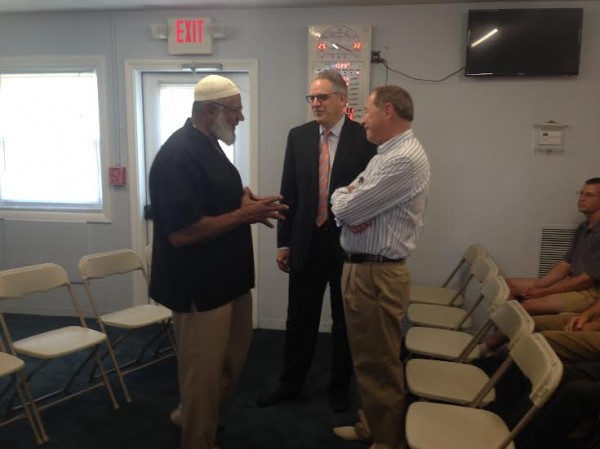 Ansari put US Attorney Peter Neronha, who also spoke at the vigil, on the spot about Gingrich's call for a religious test for Muslim Americans, an idea that was widely panned as both unconstitutional and un-American. "Our US Attorney is here," Ansari said, motioning to Neronha, who was seated nearby. "Don't you think it's against the constitution? I think it is." Neronha laughed along with the crowd, but didn't otherwise offer a legal opinion.
Neronha's office sometimes investigates vandalism against religious institutions. He said they are helping South Kingstown Police investigate the Kingston incident. About a similar hate crime against a Muslim school in West Warwick two years ago, Neronha said, "We're still working on the incident at the Islamic school and there is promise in that investigation. I'm convinced we will bring that person to justice."
Neither Neronha nor Congressman Jim Langevin followed the theme of putting some blame for local violence on national political figures. Of the three secular speakers at Saturday's event, University of Rhode Island President David Dooley came closest to putting the local incident into a global perspective.
"It does seem, and in real ways it is true, that we face unprecedented times," Dooley said. "The challenges, the diversity of those challenges, the magnitude of those challenges, is perhaps greater than it has ever been. But I think we can take some comfort, at least I hope we can, in the recognition that in many respects the hatred that we fight today has long been with us, and we have defeated it in the past."
While the secular speakers shied away from being overtly political, the religious leaders did not. A Muslim, a Christian and a Jew each parsed the vandalism against the Kingston mosque as a symptom of the national dialogue.
"To think that a man running for president could promote and exacerbate policies of hatred, fear and suspicion is just simply unbelievable for all of us," said Rabbi Howard Voss-Altman.
He implored people to follow the example of Supreme Court Justice Ruth Bader Ginsburg, who denounced Donald Trump earlier this week in spite of the tradition that justices remain apolitical.
"Don't be shy," Voss-Altman said. "Stand up, speak out. We will stand together to oppose hatred, and division, and fear. We do so today, we do so tomorrow, we do so on November 8 and then we continue to do so."
RI religious leaders blame Trump, Gingrich for vandalism at local mosque

,