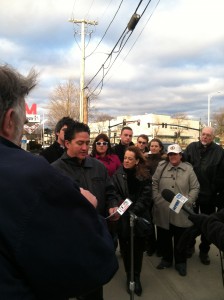 Where's the Work?, an organization of unemployed and underemployed workers in Rhode Island joined together at the netWORK RI office in Providence to call on Congress to extend unemployment insurance before the end of the year.  Some 8,700 of Rhode Island's jobless will lose their unemployment insurance on December 29 unless the program is reauthorized.
Some members of Congress are including the extension of Emergency Unemployment Compensation (EUC) in the deal making process on resolving the so-called "fiscal cliff,"  using the program as a bargaining chip.  All of the White House's proposals have included extending EUC, and House Democrats demand the program be reauthorized.  Speaker Boehner's "Plan B" proposal does not include an extension.
"Unemployment insurance provides our unemployed workers with a critical lifeline to keep a roof over their heads and food on the table as they search for work in these tough economic times and is critical to our local economy." Said George Nee, President of the RI AFL-CIO. "Congress should stop playing games and extend unemployment insurance now. Jobless Rhode Islanders deserve the peace of mind this holiday season that they will be able to feed their families in the New Year."
Stanley Banach, a member of Where's the Work, lost his job in May after being injured in a car accident. Banach will lose his benefits soon if Congress does not extend unemployment insurance. "I am trying to find a job as quickly as possible, but without unemployment insurance I don't know how I'll pay for transportation to job interviews or take my son to the doctor. Nobody wins if Congress fails to extend unemployment insurance."
Another Where's the Work member and unemployed Rhode Islander, Lisa Buteau added "I'm deeply concerned that some of our national leaders do not have the vision to see the importance of this program and what it means – not only to those who receive this benefit directly, but also for the economy as a whole."
The Congressional Budget Office has reported that extending the program through 2013 could save 300,000 jobs, and the Economic Policy Institute puts the number of jobs saved or created at 400,000.
Reverend Duane Clinker, of the Open Table of Christ, closed with this: "We are reminded at this time of year to keep our hearts open to the needs of our community, and that through compassion, solidarity and faith we can carry each other through difficult times. I urge Congress to do just that and extend unemployment insurance."
While other aspects of the "fiscal cliff" are set to slowly phase in over the coming year, EUC will expire abruptly at year's end.  There has been speculation that Congress could adjourn without reaching a deal, but that later in January thew Congress could cut a deal that applies retroactively.  But that won't help the unemployed workers in Rhode Island and around the country face losing their unemployment insurance next week.
Long-term unemployment continues to be severe, with the average length of unemployment still around 40 weeks.  Every member of Rhode Island's Federal delegation is fully in support of reauthorizing federal unemployment insurance (see here and here, for example).