Dr. Jason Heap ("Jase"), executive director of the United Coalition of Reason (United CoR), "one of the largest nontheist organizations in North America," spoke to a combined meeting with members of the Rhode Island Atheists, the Humanists of Rhode Island and others about both the group he leads and his pending court case against the United States government regarding Humanist chaplains in the United States military. Jase's message drew on the influences of Dr. Martin Luther King, Jr., as he emphasized unity without uniformity and celebrated nontheistic diversity.
As the case is pending, Jase could only speak in generalities about the lawsuit, and there were many questions he could not answer. A Huffington Post piece from last year explains that Jase, endorsed and certified by the Humanist Society as a chaplain and a celebrant, "is challenging both the U.S. Navy and the Department of Defense for not recognizing the group as an endorser of chaplain candidates."
Jase's academic credentials are impeccable. He has a BA from Howard Payne University in Brownwood, Texas, with double majors in philosophy and theology; a Masters of Divinity from Brite Divinity School- Texas Christian University; an MSt in history and religion from The University of Oxford, and a Post-Graduate Certificate in Education (PGCE) with Qualified Teacher Status from Sheffield Hallam University in England. Jase has also completed a Doctor of Education degree with a specialization in administrator leadership for teaching and learning.
The suit Heap filed states that Heap's "qualifications and experience far exceed the standards articulated by the Navy for accepting applicants… The Navy denied his application because of his Humanist beliefs." According to the lawsuit, the Navy "does not consider Humanism to be a religion."
For many, myself included, Humanism is not a religion, but a moral worldview that takes the place of religion. Time and again, however, the courts have ruled that Humanism and atheism are protected under the conscience clause of the First Amendment, just as religion is.
Though Jase was constrained in his talk about his lawsuit, he was fully able to talk about his role as the executive director of United CoR. United CoR works to build local coalitions of non theistic groups. Here in Rhode Island seven non theistic groups have banded together as the Rhode Island Coalition of Reason (RICoR).  The efforts of this group, under the leadership of Coordinator Dr. Tony Houston, lead to both the billboard in South County and the RIPTA bus ads that sported the "Godless? So Are We!" slogan last winter.
With Jase as Executive Director, United CoR has begun to do more than simply offer a web presence and billboards. United CoR is now helping local groups succeed with educational opportunities, speaker engagements, and event promotion. UnitedCoR is also making new efforts to connect with community partners, both at local and national levels, for the benefit of the 80+ local coalitions.
Jase spoke also of Rhode Island's leadership in establishing the first government in history where church and state were separated. Earlier in the day he had explored Touro Synagogue in Newport, an important site in the history of religious freedom in our state.
"I have always had a certain fascination for Roger Williams and respect for the historical contribution of Rhode Island, ever since I took a History of Baptist course from the late Rev. Dr. H. Leon McBeth at Brite Divinity School," said Jase. "Williams' 1644 work, The Bloudy Tenet of Persecution, speaks volumes in current American religious discourse when he stated, 'all civil states, with their officers of justice in their respective constitutions and administrations, are proved essentially civil, and therefore not judges, governors, or defenders of the spiritual or Christian state and worship.'"
One last bit of exciting news: When Jase learned of my effort to raise money via GoFundMe to cover the visit of Pope Francis to the United States in September, what I called "Send an Atheist to cover the Pope," he offered United CoR matching funds of $250 for the next $250 worth of donations. People who contribute now can double their investment in democratic journalism.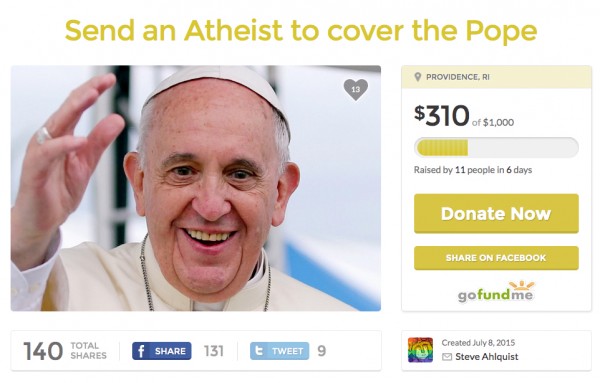 Dr. Jason Heap talks about religious freedom and Humanist military chaplains

,