James Patin, of Worcester Socialist Alternative and recently returned from Seattle, delivered his impressions of the reelection campaign of socialist city councillor Kshama Sawant as she fights to retain her seat after having been instrumental in passing a $15 minimum wage in that city, something critics claimed could not be done. Patin spoke in the Worcester Public Library at a public discussion on the rise of socialist candidates in the United States and the possible impact of a Bernie Sanders campaign on building an independent left workers' movement separate from the Democratic Party.
Patin explained that in all of her campaigns, Sawant accepted no corporate donations. The average donation to Sawant runs between $40 and $50, as opposed to an average of more than twice that for other city council candidates in Seattle. Candidate Sawant has the highest number of individual donations in the state of Washington. Sawant has accepted a salary for her elected position of only $40,000 a year, an "average worker's salary," and gives the rest to charity.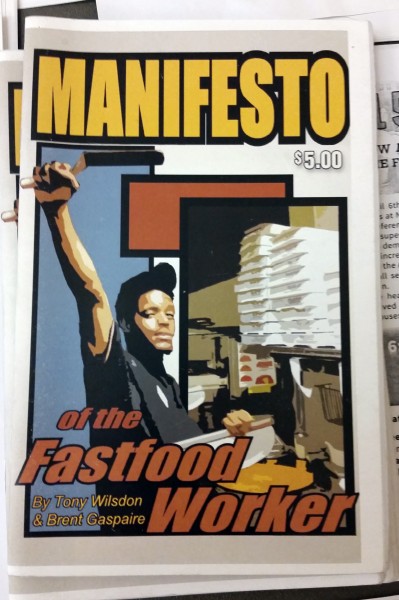 During her first two years in office Sawant has lead the successful fight to raise the minimum wage to $15 in Seattle, fought to stop evictions and institute rent controls with an eye towards affordable housing for all, and helped pass a resolution to change Columbus Day to Indigenous People's Day.
For her next term in office Sawant is seeking to bring municipally funded broadband to the entire city, deliver on rent control and increase taxes on the rich. One of her opponents has already spent $60,000, in one week, to beat her. The "two corporate parties" said Patin, are campaigning hard against Sawant, and they seem to have unlimited money to do so.
The two party system is the problem, said Patin, and no one candidate, not Sawant, not Green Party presidential candidate Jill Stein, and not even socialist-independent turned Democrat Bernie Sanders is going to be able to challenge the system in a meaningful way by themselves. The accomplishments of independent candidates are temporary and limited, said Patin, state and federal forces will overturn or sidestep gains made by independent candidates.
The key to change, Patin believes, is not about electing an individual but about creating a mass movement. Democrats, like Republicans, are owned by the billionaire class. Sanders is calling for a political revolution against the billionaire class, but he's doing so from within the two party system controlled by billionaires. It seems a recipe for failure.
It is the position of Socialist Alternative that Sanders cannot win the Democratic primary. Many in the room foresee a Jesse Jackson moment where Sanders will take his grassroots mass movement and hand it over to Democratic frontrunner Hillary Clinton after the primary. This is one reason why Socialist Alternative is not endorsing Sanders. They want him to run as an independent, free of the two-party system.
Patin was no more hopeful for the prospects of Green Party candidate Jill Stein. Stein, like Sawant, has declined corporate donations (though the Green Party accepts them) but Stein, says, Patin, is "boring."
[Note: Tony Affigne, of the Green Party of Rhode Island, contests this. He sent me the following note:
"To the contrary, the Green Party does not accept corporate donations, and never has.

"From the Green Party of Rhode Island's donations page:

"'The Green Party really is different- we don't accept corporate money. In Rhode Island, where money seems to dominate politics, the Greens are the only party that accepts no contributions at all from corporations or corporate PACs. We rely entirely on small donations from people like you. Please make a donation today!'

"From the national Green Party's donations page:

"'Corporations are not people. The Green Party of the United States and its candidates only accept individual contributions from real people. People like you. Please donate today.'"]

In the discussion that followed Patin's talk, moderated by Socialist Alternative member Alex Rothfelder, the consensus of the room was that it's not about the candidate, it's about the movement. So for now, they are not drinking the Sander's Kool-Aid. For these socialists, elections are not about effecting political change, they are opportunities for mobilizing large numbers of workers towards the goal of enacting meaningful socialist reforms.
Then again, there's no denying the force of the personality of Kshama Sawant. As much as it's "not about the candidate," Sawant is a powerful speaker who exudes a charisma that makes it very much about her, as much as she might try to deflect it.
---
I wrote about Kshama Sawant when she spoke ahead of last years climate march here:
Fighting climate change will require radical economic solutions
Building an independent left workers' movement

,