Browse:
Home
/
Democratic Party
By Steve Ahlquist on January 29, 2017
One thing became very clear, very quickly: People wanted Whitehouse to actively push back against Trump, and they do not expect compromise or any more "Yes" votes on Trump's cabinet picks.
Posted in Congress, Events, Featured, Gun Control, Health Care, National News, News, Video | Tagged ACLU, Barbara Mikulski, Bernie Sanders, Central Intelligence Agaency, cia, David Cicilline, Democratic Party, Department of Health and Human Services, DHHS, donald trump, Environmental Protection Agency, EPA, hillary clinton, jack reed, James Langevin, James Mattis, Mike Pompeo, Ray Trinque, Republican Party, rex tillerson, Scott Pruitt, Steve Bannon, Supreme Court, Tom Price, Warwick Public Library | 3 Responses
By Steve Ahlquist on December 16, 2016
"We are now in the era of Trump," said Representative Keith Ellison in his video message, "That means it is go-time for all of us. Anybody who believes in a fair economy and social justice, anyone who believes politics should serve people, and that people should be in control of their own lives and their own destinies, you got to step up, and we really need your help."
Posted in Featured, National News, News, Photos, Politics, Video, Youth | Tagged aaron regunberg, adam satchell, Ana Quezada, Arthur Handy, Bernie Sanders, Chris Blazejewski, david bennett, Democratic National Committee, Democratic Party, dnc, donald trump, Evan Shanley, Georgia Hollister-Isman, Gregg Amore, Hanna Gallo, Jason Knight, Jean Philippe Barros, Jeanine Calkin, jim seveney, John J. Lombardi, Joseph Almeida, Joshua Miller, Kathy Fogarty, Keith Ellison, Laufton Ascencao‐Longo, Marcia Ranglin‐Vassell, Moira Walsh, Providence Democratic Socialists of America, ray hull, Rhode Island Progressive Democrats of America, Rhode Island Working Families Party, Scott Slater, Shelby Maldonado, Susan Donovan, The Parlour, Wall Street, YDRI, Young Democrats of Rhode Island | 2 Responses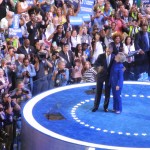 By Lauren Niedel on November 11, 2016
It was a foregone conclusion that Clinton would be the nominee. No other candidate was given a chance. The insurgency of the Bernie Sanders campaign and the nationwide movement he inspired were an unwelcome distraction in the election process leading up to the inauguration of the first female President.
Posted in Elections, Featured, Politics, Rhode Island | Tagged Bernie Sanders, Democratic Party, Elections, Rhode Island | 10 Responses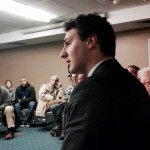 By Steve Ahlquist on July 21, 2016
"…even when they don't end up tipping the balance," said Representative Aaron Regunberg, "the mere existence of superdelegates adds to the perception among many voters that the political system is rigged."
Posted in Class Warfare, Elections, Featured, National News, News | Tagged aaron regunberg, Center for Popular Democracy, Daily Kos, democratic national convention, Democratic Party, National Nurses United, Progressive Democrats of America, superdelegates | 1 Response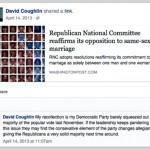 By Steve Ahlquist on April 5, 2016
"My recollection," wrote Rep Coughlin on Facebook, "is my Democratic Party barely squeezed out a majority of the popular vote last November. If the leadership keeps pandering on this issue they may find a conservative element of the party changes allegiances giving the Republicans a very solid majority next time around."
Posted in Civil Rights, Featured, LGBTQ, News, Rhode Island | Tagged David Coughlin, Democratic Party, karen macbeth, Larry Berman, marriage equality | 1 Response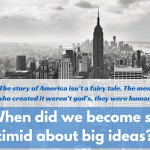 By Greg Matos on March 8, 2016
This presidential election cycle has me a bit confused, especially on the Democratic side. It seems that many of our leaders have forgotten that we are a nation of revolutionary ideas.
Posted in Featured | Tagged Bernie Sanders, Democratic Party, Democratic Primary, hillary clinton, revolution | 1 Response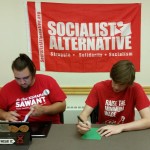 By Steve Ahlquist on July 22, 2015
The two party system is the problem, said James Patin of Worcester Socialist Alternative, and no one candidate, not Sawant, not Green Party presidential candidate Jill Stein, and not even socialist-independent turned Democrat Bernie Sanders is going to be able to challenge the system in a meaningful way by themselves.
Posted in Activism, Class Warfare, Climate, Corporate Greed, Elections, Events, International News, Labor, National News, News, Politics, Rhode Island | Tagged Bernie Sanders, columbus day, Democratic Party, green party, Indigenous Peoples' Day, jill stein, Kshama Sawant | Leave a response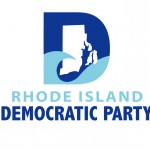 By Samuel G. Howard on September 14, 2012
First, right off the bat: anyone who uses the phrase "Democrat Party" is already showing their ignorance of the Democratic Party. You should still read their arguments, but chances are, they're going to be off-base. And that's what Donna Perry's column in GoLocalProv is (the URL says Julia Steiny for some reason). Ms. Perry tries […]
Posted in Featured | Tagged Anthony Gemma, barry hinckley, bob walsh, David Cicilline, Democratic Party, donna perry, gay marriage, gayle goldin, jon brien, marriage equality, maryellen butke, Republicans, unions | 1 Response