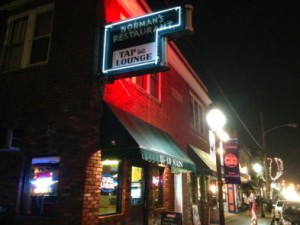 Here's the story of a man who has run a small business in downtown East Greenwich for more than 50 years who may lose his livelihood – a local institution and one of the hallmark properties on Main Street – because he fell behind on his sewer bill.
Norman Harris owns a dive bar/greasy spoon diner right in the heart of historic downtown East Greenwich and he is three-years delinquent on his sewer bills to the tune of $32,000. Some of that debt belongs to his business but the bulk of it comes from the five apartments connected to the restaurant that are occupied by family members.
The Town Council is threatening to revoke his liquor license if he can't pay the debt in one lump sum.
Sharon Hazard, who runs the restaurant for her elderly father, told the Town Council that tough economic times plus a major money setback as a result of identity theft has left the family finances in shambles – and that they are even willing to remortgage their property to make the town whole. Still, she was berated by two of the elected officials.
Councilor Mark Gee lectured Hazard about how he too had faced hard times and never fell behind on his taxes. "To me it's almost a little abusive to the town," he said to her at a public meeting two weeks ago. Councilor Jeff Cianciolo forced Hazard to come back in two weeks with a title search, even though she told the Council she had already paid for one to be completed within the next two months. He wants the debt paid off in one lump sum. Council President Michael Isaacs was more understanding. He said, "We should exhibit some flexibility on this. I think they do need some time to work this out."
Some see the Harris' plight as just the cold, harsh realities of an unfriendly economy, and the delinquent sewer bill is the straw that broke the Harris' business model. Others, like Councilor Gee, see it as a fairness issue; if you don't have enough money to pay the town for your real property, you don't get to keep your real property (unless you might turn it into a science center someday, more on this coming up).
And in the parts of town where Norman's customers still live, a world away from the expensive track homes that constitute most of East Greenwich's affluence, there are those who think it's latent racism, class intolerance and a blatant attempt to socially engineer the Harris family off of Main Street.
The Harris' are known locally as "the only black family in East Greenwich." Of course this isn't true, but it can certainly seem that way in lily white suburbia. As a point of fact, the Harris' are bi-racial, and trace their roots back to the pre-Columbus Narragansett Tribe. (And other black people do live in town.) Perhaps more relevant than their skin color is their style. Many of the Harris' just don't look like modern day East Greenwich: think Swamp Yankee rather than soccer mom.
And their business attracts a rough crowd to an otherwise very gentrified center of commerce and community. I'd even go so far as to say the Harris' can be a rough bunch themselves, and their tavern can be downright dangerous late at night. There's a pool table, an ashtray out front and it serves cheap beer right across the street from a hotel that rents rooms by the week and/or month. People down on their luck get a room at the Greenwich Hotel, and find some friends across the street at Norman's Tap. But that tale doesn't always end well. The police are there frequently on Friday nights to break up fights.
It's well worth noting that while Norman's is a rough bar, it is not the roughest one in town. Some of the newer upscale bars and restaurants also draw a police presence on the weekends. The waterfront bars, which attract more affluent out-of-towners than the crowd that stay at the Greenwich Hotel, require multiple officers be stationed there throughout the evening (for parking and crowd control). And the only assault with a deadly weapon in recent years, a stabbing with a fork, happened in one of Main Street's more posh eateries.
And as far as their debt is concerned, or it being some sort of affront to the community that they have let it fester for so long, I was personally more offended when Don Carcieri left vacant for 12 years (and counting) a piece of prime real estate the town gave him because he said he would turn it into a science center. No public lecture for the Republican former governor from the all GOP Town Council though.
So why do the Harris' receive such harsh treatment from some on the town council and many more on the internet? Why would the Town Council consider destroying a local business that has been operating on Main Street for 50 years because of the three years of debt? What public good would be accomplished by taking away their liquor license?
There is absolutely a number of very influential local conservatives who think Main Street and the downtown economy would be well served if Norman's Tap would just go away. Whether or not they are right is beside the point. A delinquent sewer bill should not be used as a tool to take away someone's livelihood simply because some influential Republicans think more gentrification will make for a better community.
EG Town Council might shut down a 50 year old Main St small business

,