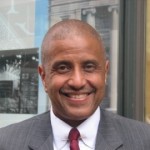 "Over 40 percent of the youth of color between the ages of 10 and 24 are unemployed," Jim Vincent, executive director of the Providence branch of the NAACP. "That's a recipe for disaster."
Because of this, the lack of good public schools in the urban core and the general feeling that the streets there have become less safe has inspired he and others who fight for social justice to hold a press event today at 4:30 in front of the Garrahy Judicial Complex in Providence today.
Vincent told me some 12 community organizations are coming together to advocate for a safer city, better education and a firmer commitment that Rhode Island's urban core will not be left behind.
Listen to our conversation here: