Monday Jan 27, 2013
North Kingstown, RI – Happy Monday morning, Ocean State Futurists. This is Bob Plain, editor and publisher of the RI Future blog podcasting to you from The Hideaway on the banks of the Mattatuxet River behind the Shady Lea Mill in North Kingstown, Rhode Island.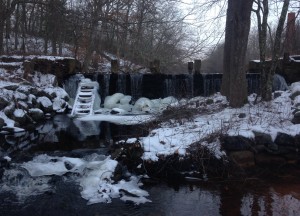 Our show today is brought to you by Largess Forestry. Seriously folks … winter is the best time of year to care for trees – so if you've got some projects you've been putting off, give Matt Largess a call at 849-9191, or friend them on Facebook.
This morning we speak with Jim Vincent executive director of the Providence branch of the NAACP about a press conference his group is hosting today to call attention to the growing sense of fear and frustration in the inner cities. The NAACP and some 12 other community groups will be meeting outside the Garrahy Judicial Complex in Providence today at 4:30 to announce an effort at working together to call attention to these issues….
We'll also catch up with probably-soon-to-be Woonsocket state Rep. Mike Morin. Morin just won the Democratic primary to fill Lisa Baldelli-Hunt's old seat in the State House. Assuming he wins the general election Feb 25 – and I think this is a safe assumption given he's the only name on the ballot – that will mean the Woonsocket House delegation will be 2/3 fire fighters!
It is Thursday, January 24 and before we hear from Jim Vincent and Mike Morin, let's see what else is going on in the Ocean State…
"Providence, Rhode Island, is the coolest city in New England. I would even put it on the shortlist of coolest small cities in the United States," writes Pamela Petro in Travel Magazine.
Elizabeth Harrison of RIPR wrote this about cheating on high stakes tests in Rhode Island public schools: "I have heard whispers about changed answers on tests in Rhode Island, but my efforts to get the booklets in question ran into a roadblock. Education officials cited the state's open records law, saying it does not require test booklets to be made available to the public."
The New York Times editorial board wrote this about school evaluation systems: "Historically, the rankings compared a school's test scores with those of the district as a whole. But under that system, demographics ruled the day; wealthy schools invariably were ranked at the top and poor schools at the bottom."
This was on the front page of the ProJo this morning but Sam Howard also tweeted about it last night: 1 out of 7 Americans use food stamps, the majority of them are of working age and the cost of the program has doubled in the last five years. How's rampant income inequality working out for you again, America? Because for at least 14 percent of the country it sucks, and everyone else is paying for it.
A former Hasbro employee is suing the company saying she was discriminated against because she is a lesbian. According to the Providence Journal, she was fired for making "a sexually inappropriate comment." The Department of Labor and Training awarded her full unemployment benefits … and they don't usually do that if you've been fired….
And this just in: Speaker Gordon Fox could buy my house in East Greenwich and probably still have enough money left in his campaign account to run for and win reelection. Large amounts of money in politics, I am coming to believe, is the biggest danger to our democracy. RI Future would like to see the ProJo op/ed page and Ken Block devote the same veracity to this issue that they teamed up for on the master lever. Common Cause RI and Demand Progress are both working on this issue this year too….