On April first the new marijuana decriminalization bill took effect in Rhode Island; no longer will possession of small amounts of marijuana result in a criminal record. It's a great start, and all Rhode Islanders should be proud of the reforms to marijuana laws we've accomplished thus far. But while this is a great first step, we can't rest until marijuana is legal.
A former Providence police officer, I now speak on behalf of Law Enforcement Against Prohibition (LEAP) and will continue to work in support of recently introduced legislation for the legalization, taxation, and regulation of marijuana. The speed with which public opinion on this topic has changed is frankly startling; a new poll from the Pew Research Center reports that 52% of Americans now say marijuana should be legalized.
And yet a very important cohort still seems to need convincing: police chiefs and prosecutors. In an article that ran in the March 31st Providence Journal — "New law may boost drug use, chiefs say" — U. S. Attorney Peter F. Neronha, State Police Col. Steven G. O'Donnell, the Cumberland and Barrington chiefs of police, and Attorney General Peter F. Kilmartin worry about the "message" the law will send to young people and that teen use will increase.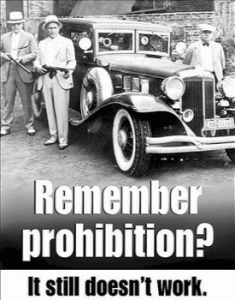 I suggest that these gentlemen should stop worrying and start making decisions and policy based on the data that are already available on this topic, for instance in the states where decriminalization has already been implemented.
The Substance Abuse and Mental Health Services Administration (SAMSHA) has been publishing statistics on teen marijuana use since 1999. Since 11 states had decriminalized possession of small amounts of marijuana back in the 1970's, the Marijuana Policy Project (MPP) thought it might be instructive to compare those states with their neighbors, whose populations and economies were similar.
Mississippi decriminalized back in 1976 and the SAMSHA statistics show that teen use is consistently lower than neighboring Alabama where possession can still get you jail time.
Nebraska decriminalized in 1978, yet since 1999 its teen use has consistently been below that of Kansas and South Dakota.
In New England, Maine has been achieving the lowest teen use in the region; Maine decriminalized in 1976, while Vermont and New Hampshire maintain harsh criminal penalties.
And a recent study by Dr. Esther Choo at Brown University's medical school shows no increase in teen use where states have legalized medical marijuana. (NYDN 4.5.13)
And let's not forget that grandest of all decriminalization experiments, Portugal. Since decriminalizing all drugs ten years ago drug abuse in the country is down by half. (Forbes 7.5.11)
It is time for these officials to stop worrying about what may happen and look at what already has, and think about what could be.
Ex-Police Officers Against Marijuana Prohibition

,