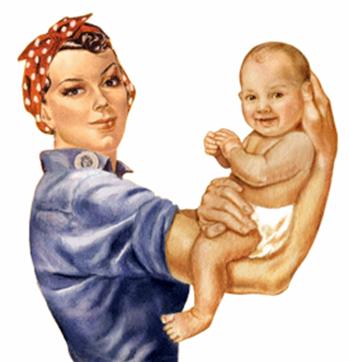 I just had my second child. Due to this, my childcare bill is now over $2000 a month. As a result, almost half of my family's take-home salary is spent on childcare and childcare related expenses. It does not surprise me when people ask why we are sending our children to daycare instead of staying home.
I usually have to take the time to explain to them that short-term economic planning in this case makes little long term sense. Every year that one of us is out of the workforce, our long term earning potential is decreased. That means that 20 years from now when our kids are grown, we will make less than we would have if we had stayed in the workforce. We also would not earn any social security credits, or have the ability to put away for retirement. That means that if one of us stays home today because it makes financial sense to do so, we are more likely to be poor when we are older.
Unfortunately, most people don't make these types of long term decisions.
Perhaps more importantly, I know several people in which it would actually cost them more to have their kids in day care than it does for one parent to stay home. In every situation in which this has been the case, one parent has decided to stay home until their kids are in school despite the long term consequences. They simply can't make ends meet on a day to day basis if their kids are in daycare.
So, why is this the case? Lilian Faulhaber makes a great argument in her recent NYT op-ed. She argues that the tax system systematically discourages middle class women from working. The thing is, while it is normally women, it is not always women. The tax system simply discourages middle class families from having both parents in the workforce.
While she does not address this, in his State of the Union address, the President called for funding for universal public pre-school. Having a high quality public preschool program would at least decrease the amount of time that parents stay out of the work force even if the tax code stays the same.