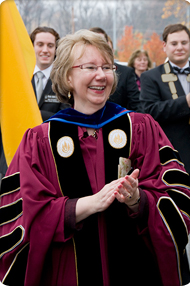 Rhode Island College professors attended an Open Forum at the Council on Postsecondary Education at the Community College of Rhode Island Warwick campus to express their support for Rhode Island College President Nancy Carriuolo and repudiate the charges made by several RIC employees several weeks ago in a letter that was shared with the Providence Journal and others. The speakers were, in order of appearance:
Richard Lobban- Professor Emeritus, Anthropology
Carolyn Fluehr-Lobban- Professor Emeritus, Anthropology
Andrew Stewart- Treasurer, Class of 2009
David Espinosa- History
Daniel Scott- English
Vincent Bohlinger- Film Studies
Bethany Lewis- Psychology
Speaking enthusiastically of Dr. Carriuolo, they also emphasized that they found the original complaint of diminished faculty morale to be inaccurate. Dr. Bohlinger also emphasized that this instance had been an attack on not just a single person but on the entire institution and that it presented a poor image for the public. It is worthwhile to note that not a single complainant, even those whose names were publicized, made an appearance to defend their claims. Also in attendance was Dr. Joseph Zoronado of the English Department, who previously stated his rebuttal to claims of statistical anomalies in enrollment in a letter to the Journal. The audio is approximately twenty minutes.