In the wake of the terrible tragedy at the Pulse nightclub last week in Orlando, there was a small sliver of hope that the RI General Assembly might pass some kind of meaningful gun control legislation. Instead, the House, under the leadership of Speaker Nicholas Mattiello, voted to weaken existing gun laws pertaining to concealed carry permits, and the full house passed a version of a bill to disarm domestic violence offenders that is so watered down as to be meaningless.
In short, the General Assembly did nothing to make Rhode Island safer or to improve the condition of gun laws in Rhode Island, and the House of Representatives attempted to make the situation worse.
Let's start with the domestic violence bill. Advocates have been pushing a bill for three years that would close a loophole that allows domestic abusers to retain their guns when convicted of a misdemeanor. If passed, the law would take guns out of the hands of criminal domestic abusers.
The Second Amendment Coalition, the local arm of the NRA here in Rhode Island, opposed that bill, and for three years it never got out of committee. Instead, the House decided to take a bill entered by Representative Gregg Amore  and change it into a duplicate of a bill by Senator Cindy Coyne, recently passed in the Senate. Senator Coyne's bill doesn't take guns out of the hands of misdemeanor domestic abusers. Instead, it codifies existing law about felony domestic abusers, providing a framework for taking away an abusers guns only in the case of felony domestic abuse.
On the floor of the House, while introducing the bill, House Judiciary Chairman Cale Keable said that the Rhode Island Coalition Against Domestic Violence (RICADV), "Acknowledges that this is a good step in the right direction, even if they would have wanted more."
Not quite.
While the Senate was debating the Coyne bill, Deborah Debare, executive director of the RICADV said, "This bill was originally proposed as part of a comprehensive package that would have been a major step forward for victim safety, and we supported it in that context. Passed in isolation, however, this legislation is an administrative fix to existing systems that will have little impact on victims or on preventing domestic violence homicides." (italics mine)
Coyne had presented and the RICADV had supported a package of bills. This one bill, on its own, does nothing for domestic violence. "We caution against seeing the passage of this legislation alone as a victory towards creating safety for victims and their families, or towards preventing the domestic violence homicides that continue to take a toll on Rhode Island communities," said Debare in her letter.
During the Judiciary Committee hearing, Representative Edie Ajello, a co-sponsor of the Amore bill that the committee dismboweled and turned into a copy of the Coyne bill, asked that her name be taken off the bill as it was now presented. "Okay," said Keable, "I'll make sure a form is sent to you."
The committee hearing was held in room 205, away from the Capitol TV cameras that broadcast the goings on on the State House. Under questioning from Representative Carol Hagan McEntee the lawyer for House Judiciary admitted that existing law already covered everything this bill purported to do. All this bill does is establish a standardized statewide framework for having guns removed from the possession of convicted felony domestic abusers. It also makes sure that these criminals will be properly recompensed for the value of their guns if the weapons are sold.
This was all done under the watchful, approving eye of Frank Saccoccio of the Second Amendment Coalition.
After the bill passed in committee, Tom Wojick, a members of Moms Demand Action, left the committee meeting room saying "Shame on you!" to the reps.
In the hallway outside the committee, Jerry Belair, representing the Rhode Island Coalition Against Gun Violence (RICAGV), called the legislation "Virtually meaningless". The House, says Belair, "is using this legislation to provide cover for themselves, as a red herring, to make believe they're doing something for domestic violence."
Jennifer Boylan Smith, a local leader of  RI Moms Demand Action, said in the hallway after the committee vote that the "Moms are very angry, very frustrated" with the passage of this bill.
Hours later the bill went to the floor of the House. It passed virtually unanimously.
Representative Teresa Tanzi, who has been fighting to pass a real bill that would disarm domestic abusers for three years, rose to speak after the vote. I'm quoting her at length below:
This is a bitter pill for me to swallow today. Who can stand here tonight and say they were against a bill as the chairman said, is the first time in the history of Rhode Island, that we would be surrendering guns for those convicted of domestic violence provisions?

"Certainly not I.

"The thing that hurts me, and frankly the thing that haunts me, is that it's just a little too little. On our final day of session, we had an opportunity here to make a real difference. To not wait until the inevitable tragedy, and I really truly believe that it is inevitable that this will come here some day, but to protect Rhode Island families now… passions are high right now… our community is reeling in the wake of yet another mass murder.

"We are called on to act as lawmakers to respond, to protect, and this response to the pleas of our constituents I feel is not on par with the crisis that our nation currently faces.

"My hope is that when I return, that we as a body return in January that we continue the work that Rep Amore, myself, the Speaker and so many others began and will be able to address the issue because it will not go away.

"A generation of citizens has been awakened to a new reality. And I personally will not rest until I feel that we have done all that we as a body can do to reverse the tide of gun violence. And I truly am grateful to you all for not objecting, for allowing me this moment, to say my piece on the floor, and I truly appreciate it."
Though the bill does nothing to protect victims of domestic abuse, is does have safe guards in place to protect domestic abusers from whatever financial losses they might suffer in losing their guns. In a press release, the General Assembly pointed out:
Under the bill, firearms surrendered to gun dealers could be sold by the dealer to a person designated by the person subject to the surrender order, but that person must not live in the abuser's household and would be prohibited from returning the gun to the abuser's possession. The abuser could receive payment for any sale after the surrender.

"The bill asks the Police Officer's Commission on Standards and Training to establish policies for what law enforcement agencies should do with firearms surrendered to them under this bill. The bill stipulates that the person who surrenders the gun is to be notified when it is disposed of by the department, and that he or she should receive any financial value derived from its disposal."
Having passed legislation that does more for perpetrators of domestic violence than it does for victims, the House immediately moved to pass legislation that would give police chiefs less discretion in denying concealed carry permits. Currently the law in Rhode Island allows concealed carry permit holders to bring their guns into schools. A bill to prevent that has never gotten out of committee. Instead, the House decided to pass legislation that is opposed by police chiefs throughout the state, because it will make it harder to deny concealed carry permits.
Representative Michael Chippendale rose to wax eloquently about how wonderful this bill was. He seemed pleased that the bill would make it easier to deny permits to gang members while making it easier for anyone else to get permission to conceal a gun on their person.
This bill passed overwhelmingly, with only six legislators, Ajello, Jean Phillipe Barros, Joy Hearn, McEntee, Aaron Regunberg and Tanzi voting against it. Reportedly, after the bill passed, some legislators, including Jan Malik, changed their vote. Malik was recently challenged by his primary opponent Jason Knight to return campaign contributions to the NRA.
Reaction on Twitter was swift and negative after Ted Nesi reported the passage of the concealed carry bill: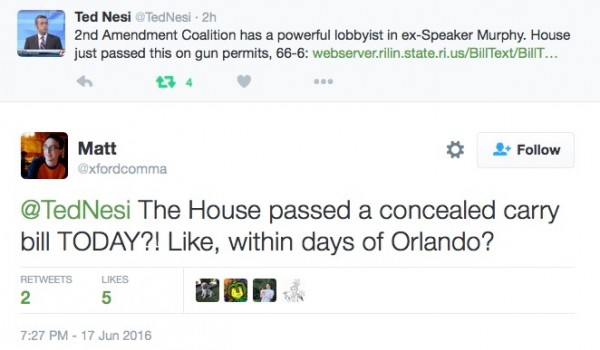 Governor Gina Raimondo won't have to veto the bill. The Senate did not pass it, reportedly under pressure from police chiefs from throughout the state.
The General Assembly offered thoughts and prayers and moments of silence in the wake of the Orlando tragedy. They used victims of domestic violence to pretend that they were passing meaningful legislation, when in fact the legislation protects perpetrator more than victims. They came close to making it easier for anyone to carry guns into schools. They insulted the memory of those who died in Orlando, in Charleston, at Sandy Hook…
The actions of the General Assembly last night was an insult to Rhode Island, and an abject moral failure.
Shame.
RI General Assembly morally bankrupt on guns

,