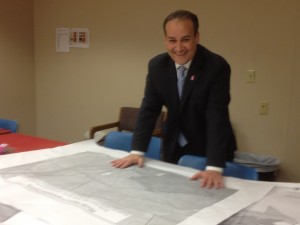 Anthony Gemma says he running against Congressman David Cicilline to help keep the CD1 seat in the hands of the Democrats. But he also said that he wouldn't vote for Cicilline in the general election if the incumbent beats him in the primary.
"I said in good consciousness I cannot support David Cicilline," Gemma told me, recounting what he said Monday night at the endorsement meeting for the Rhode Island Association of Democratic City and Town Chairpersons.
After talking about it with me, Gemma softened his position, saying, "We're in a political fight right now. On September 12, I will reassess my position."
He added, My number one objective is to keep the seat Democratic. I will rally behind the Democratic party."
But some at the Monday night meeting doubt that is really Gemma's objective.
Leonard Katzman, the chairman of the Portsmouth Democratic Town Committee said Gemma told the group he would write in his own name rather than vote for Cicilline, a statement that made him question Gemma's motives.
"His entire pitch is that he wants to ensure that the seat remains with the Democratic party," Katzman said. "If he's not willing to support the eventual nominee, that tells me he's really not interested in keeping it with the Democrats."
In an email sent out after the meeting, Mike Burk, chair of the Tiverton Democratic Town Committee, wrote that Gemma said he would run as an independent if he doesn't win the primary, even if that helps the GOP retain control of the House of Representatives. Gemma refutes this allegation and says he has an audio recording of the meeting to prove it.