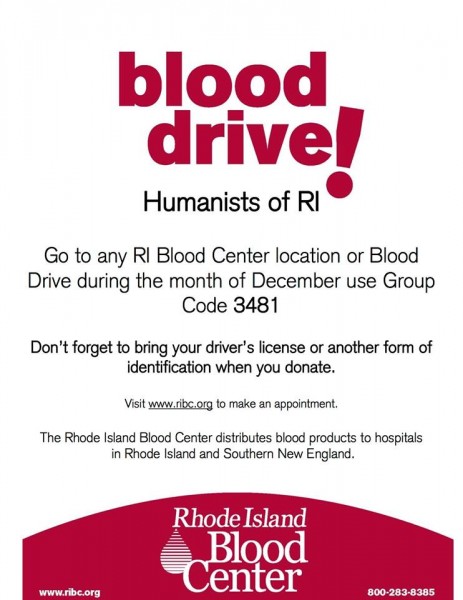 Governor Chafee's recent decision to let the giant evergreen dominating the State House rotunda be officially called a "Christmas Tree" rather than a "Holiday Tree" as has been the tradition since at least the Carcieri administration, is unfortunate. Chafee has been a very good advocate of church-state separation, fighting the good fight even when there was a political cost to doing so. Now that he is leaving office, one would think Chafee has nothing to lose by sticking to his guns on the issue, but for whatever reason Chafee has conceded the argument to the DePetro's, Costa's and Tobin's of Rhode Island…
However, the Humanists of Rhode Island have more important issues to concern themselves with.
We're holding a Blood Drive.
For the entire month of December anyone can go to any Rhode Island Blood Center location or Blood Drive van and use the code 3481 to give blood in solidarity with the Humanists of Rhode Island and the secular values our state was founded upon.
Giving blood isn't a showy display of religious belief, and chances are no one will notice or thank you for it, but I promise that doing so will save more lives than displaying large religious icons in the State House rotunda ever could.