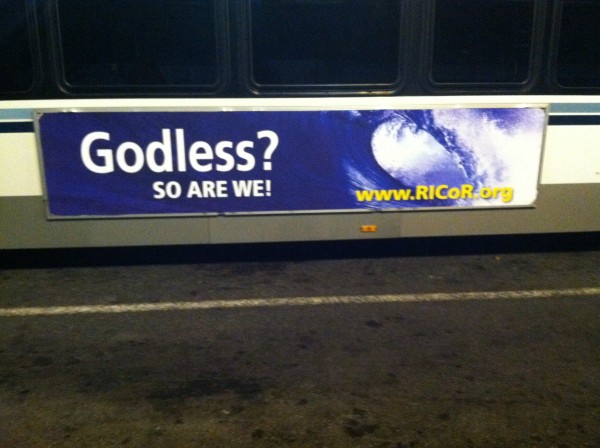 The Rhode Island Coalition of Reason (RICoR) launches today with six RIPTA bus ads and a large billboard in North Kingston that says, "Godless? So are we."
RICoR is a new organization comprised of seven non-theistic (atheist and agnostic) groups in the state, including the Atheist Humanist Society of Connecticut and Rhode Island, Camp Quest New England, Humanists of Rhode Island, Rhode Island Atheist Society, Rhode Island Skeptics, Secular Coalition for Rhode Island and Secular URI.
When asked about the response of the press to the new signs, Tony Houston, the local director of RICoR,  said, "It shouldn't be news that there are atheists. This isn't about attracting attention. I think we'd all just prefer to live in a world where we could retire the word 'atheist.' The fact that there's a story tells us that there's work to be done."
Houston added: "Non-theistic people are your family members, friends, neighbors and co-workers. We may not believe in a deity or the supernatural, but we are compassionate, ethical members of this community. We would like to encourage local atheists, agnostics, freethinkers, skeptics, secularists and humanists to stand up and be counted. If you are a Rhode Island nonbeliever, know that you are not alone."
"The point of our national awareness campaign is to reach out to the millions of humanists, atheists and agnostics living in the United States," explained Dr. Jason Heap, national coordinator of United CoR, the national group sponsoring the ads. "Non-theists sometimes don't realize there's a community for them because they're inundated with theistic messages at every turn. So we hope our effort will serve as a beacon and let them know they aren't alone."
"Being visible is important to us," Heap concluded, "because, in our society, non-theistic people often don't know many like themselves.
UnitedCoR has sponsored similar billboards, bus ads or Internet campaigns in Arizona, Arkansas, California, Colorado, Florida, Idaho, Illinois, Iowa, Kansas, Kentucky, Louisiana, Maryland, Massachusetts, Michigan, Minnesota, Missouri, Montana, Nebraska, Nevada, New Jersey, New York, North Carolina, Ohio, Oklahoma, Oregon, Pennsylvania, South Carolina, Texas, Utah, Virginia, Washington, Wisconsin and West Virginia.

Godless billboard and bus ads appear in Rhode Island

,