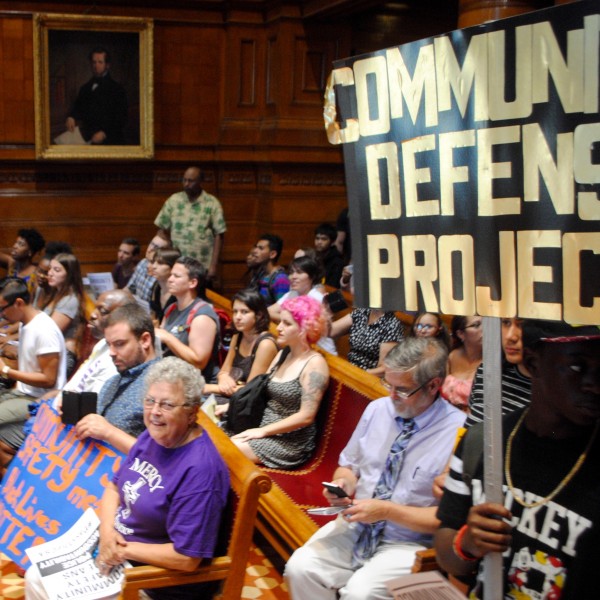 The Green Party of Rhode Island is demanding that Providence pass the Community Safety Act.
"Further delays are inexcusable and potentially dangerous," said Green Party spokesman Andrew Stewart in a press release sent on Sunday. "Providence should learn from other cities, and move quickly to prevent another tragedy."
The Community Safety Act is a citizen-backed bill that would implement new safeguards against racial profiling when police detain and/or search a suspect. Proponents say it would "ban racial profiling and other forms of discriminatory policing."
A subcommittee of the Providence City Council is supposed to consider the legislation in September. DARE, or Direct Action for Rights and Equality, has long championed the Community Safety Act. Recently members of the Providence Youth Student Movement and the White Noise Collective have formed an umbrella organization called the Step It Up Coalition to organize around the CSA. In July, activists held a mock city council meeting at Providence City Hall. Actors playing elected officials pretended to pass the legislation.
The Green Party's support could add a new dimension of political pressure to efforts to pass the CSA. "Unless the ordinance is approved soon, the Green Party says further protests may be necessary," according to the press release. "The Greens have written to Councillors Jo Ann Ryan, Brian Principe, Seth Yurdin, and John Igliozzi, urging them to move the ordinance to approval. Mayor Jorge Elorza has also heard from the Greens, who asked him to remind the Police Department that the CSA is an opportunity to build stronger community ties while making officers' jobs more safe and secure."
Here's a copy of the email the Green Party sent to Mayor Elorza and other members of the city council.
Dear Mayor Elorza:

On behalf of the State Committee of the Green Party of Rhode Island, I am writing to urge you to support the Community Safety Act (CSA), which could make Providence a national leader in police/community relations.

As you know, the CSA would create stronger checks-and-balances for law enforcement, to ensure safer encounters between officers and residents. For example, it would prohibit racial and ethnic profiling, implement a "standardized encounter form" to document police-citizen interaction, and set limits on police use of non-essential traffic stops, warrantless surveillance, and the so-called 'gang list'.

Your support now could make a difference. Please remind the Police Department that the CSA is in everyone's best interest—the CSA would build stronger and safer communities—while making officers' jobs more safe and secure.

We look forward to learning that your Administration has decided to support the CSA.

Andrew Stewart
For the State Committee
Green Party of Rhode Island
CC: Green Party State Committee
Green Party calls on Mayor Elorza to support Community Safety Act

,