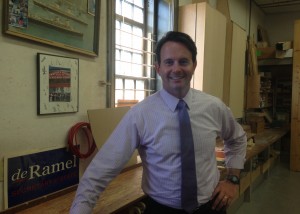 This is the second time Democrat Guillaume de Ramel has run for Secretary of State. He lost in a primary to Ralph Mollis in 2006 and says Rhode Island's voter ID law probably wouldn't have happened had he been elected instead. De Ramel opposes voter ID and supports early voting, as does his primary opponent this year Nellie Gorbea.
One difference between these two Democrats is de Ramel says he is running to make it easier to do business in Rhode Island.
"I know we can't tax our way out this rut," he told me. "So what we need to do is grow but in order to grow we have to create a more hospitable business climate."
He says the secretary of state can help lower unemployment by running more of the regulatory process through that office. "Being small should be our biggest competitive advantage," he said. "The secretary of state can really help make our state government smaller, more transparent and more open."
"Making Rhode Island state government the most open, transparent and accessible state government," is among his highest priorities, de Ramel said. He called out the state Airport Corporation, RIPTA and the Bridge and Turnpike Authority for flouting open government laws.
"Open and transparent makes it easier to do business here in Rhode Island," de Ramel told me. "Unfortunately for too long it's been about who you know, not what you know."
He speaks from experience on this matter. When we discussed what he does for a living, he told me about a project to develop 10 airplane hangars at Newport State Airport that took 13 years to bring to fruition.
Late in the project, he hired former House Speaker Gordon Fox as his business agent. I asked de Ramel why Fox, and why the project, which has been a major talking point of his campaign, took 13 years to develop.
De Ramel said he would take a lead role in repealing voter ID, and that the secretary of state should have a seat on the state board of elections.
He'd also like to extend early voting. "We have 39 cities and towns," he said. "Why not use the facilities we have and open them up for early voting." He added that state law already says one doesn't need a reason to to vote early, though he said the ballot itself doesn't make this clear.
Unlike other proposals, de Ramel would like to make it easier for lobbyists to register. It currently costs $5, and he'd waive that fee so that there were be fewer hurdles to registering. While he's bragged that he does not accept donations from lobbyists, he has received money from the spouses of lobbyists.
On his mother's side of the family, de Ramel is related to Roger Williams, he said. On his father's side, he's a descendant of the French philosopher Montesquieu, who first mused about governmental separation of powers. His great, great grandfather built the Newport water infrastructure, he said, as well as water infrastructure all over the country. His great grandmother was born in Newport and the family has been there since.
You can listen to our full 45 minute interview here.