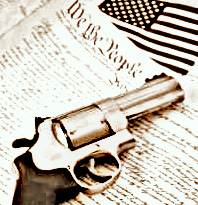 The capacity for violence that was the midwife of our nation is turning upon itself. What are we to do about our guns?
I have a gun problem. And so do you. I have a love of guns, but you probably don't. I don't own a single gun, but you might.
When my father died, he left me nothing but a broken down truck and a beautiful gun-safe full of guns in the far off land of Las Vegas, Nevada. I was off to Afghanistan when he died, and I was back from war when I chose not to accept my uniquely American inheritance. Only in America would such an inheritance be possible – or more importantly – applauded by many. I passed.
My father's slow death was a tragic and fucked up experience for me, but it ended up being a special parting gift from my father. In dying, he inadvertently prepared me for the incredible bullshit on the horizon. Dad withered slowly over the course of many months, and yet he did miraculously get the timing right; I happened to be stationed in the deserts of California, not far from my old man – close enough that we could spend his last days together. His death was a final lesson, and I think Dad would be happy to have his son say that he died teaching him a lesson – even if that lesson was to do something entirely different with my life.
After whatever training the Marine Corps and Navy hefted on me and fellows, I'd scurry away as fast as I could from my temporary home in Twenty-Nine Palms, California, hopping in a cheap rental car and roaring the solemn 3 1/2 hour drive across old Route 66,  and then on upwards to Las Vegas. I think I made this drive over a dozen times in the months leading up to the end, listening to satellite radio, chatting with far away friends, and crying. I'd pull in to my father's rental home, a cheap spot in a a deeply Hispanic side of town. (There's a Sinaloa chicken joint nearby that I highly recommend to you.) I parked next to his busted, camouflaged International Scout II, which sat alongside a neglected motor home once-purposed to take his best friends to the drag races.
Dad kept his friends close. Close enough that he gave a few of them the combination to his gun safe, for emergencies' sake.
Now, this is Las Vegas. This is a place full of vice, and full of shifty real-world friends.
So, just weeks before my Dad died, he had a pistol stolen from him. It was a nice one,  a 9mm Glock that was relatively new to his arsenal and which he was especially prideful to own. I was present at the moment he realized it was missing. He was skeletal at this time, and had gotten up to show me something in his safe that I ought to know was important (I think it was paperwork.) At that point, he realized something was amiss, shuffled around a few things, and then suddenly shuffled around everything. He was afraid, exasperated, and finally heartbroken.
I was incapable of doing a damn thing, which meant that I said something like "its okay." It wasn't. My dad was right that it wasn't. The whole fucking point of the safe, and of friends, and the guns, was to be safe, and to protect loved ones. Whoever fucking stole his gun obviously didn't get the point. But, that's not what my dad said. He collapsed on the bed after a few hours of grief. His grief wasn't that life was ending for him, since he was a fighter and certainly not willing to admit that at the time, but was instead grieved that there were only a few choice friends who could have stolen that damned gun, and all of them were well-loved. But were they trustworthy? No. There was at least one that was an addict, maybe more. At least one that could have stolen it. How did he know? Because the gun was gone.
It is difficult for me when I talk to my friends, acquaintances and strangers about their firearms. Often I don't tell them my father's story, but when I do, it is because they are new to owning guns. They are usually happy to get their first, but at a loss as to how to deal with the seriousness of owning weaponry. They buy into the many responsible ways to mitigate the danger, as my father did. My father, for all his faults, was a reasonable gun owner. On the other hand, many friends initially just chuck their new AR-15 in a closet, hopefully with some kind of locking mechanism, and hope for the best. My dad did this for nearly 20 years and never had a problem. Ironically, even after doing the right thing and getting the safe, he still had that handgun stolen.
The firearms in question never came into my possession, nor were they even technically willed to me. I wasn't up for owning them in the first place. But even if I was, the laws and paperwork would have likely been too byzantine for me to have navigated them. I often wonder whether it would have been worth getting the gun safe, just to give it to a friend who could use it. I wonder even more, after having seen a few people shot in Afghanistan, whether it is that 9mm Glock, and not any tens of thousand of others, that was picked up in a Nevada pawnshop and used to put a hole in some child somewhere. I often wonder whether or not anyone takes their rights seriously, anymore. I wonder whether culture, and not commerce or law, can make a difference to make these many tragedies less likely.
I'm a Second Amendment guy. I'm a First Amendment guy. Worthless statements, but worthy in action. I do not use the 2nd Amendment (I will not own a gun,) but I support the rights of others to own guns. I'd just rather they didn't. I do use the greatest invention of the previous millenium – the right to speak and be heard freely. I am far more proud to be a loud-mouth, than a gun owner. As someone who has spent far more time wondering what to do about a bullet-wound than what to do with a gun, I wonder whether or not people are ever going to fight nearly as hard for healing and prevention.
Submitting to the majority is not the American way of life. For those who hate guns, more power to you.