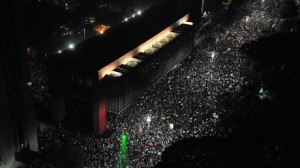 In Brazil a twenty cent increase in the bus fare is sufficient to start a revolution. Rhode Island lawmakers are lucky that the public here is more sedate, because their inability to find a sustainable financing solution for the Rhode Island Public Transit Authority's structural deficit in this year's budget will lead to either a drastic reduction in RIPTA service or a major increase in fare prices, maybe both.
The FY13 deficit for the transit agency stands at $2.2 million, and the FY14 deficit, which the budget proposal has done next to nothing to address, is projected to be over $10 million.
$10 million is about 20% of RIPTA's operating budget, and that is where RIPTA will have to look to balance its books sometime before its cash flow runs out near the end of the year. It would be a miracle if the necessary cuts comprise less than 10% of current service [For instance, a four million dollar deficit a few years ago translated into 10% proposed service reductions.] It's more likely that RIPTA will soon be holding public hearings with discussions of 20% cuts.
Never mind for the moment the impact to our environment or to the people who rely on transit as a lifeline, imagine the impact to the economy if 1 in 5 buses disappears from Rhode Island's roads. How many people who can't drive or can't afford a car won't be able to get to work? How many won't be able to make it out to the store to engage in commerce? Thousands.
I can already picture the hearings, filled to over capacity with angry and terrified riders testifying about the hardship that the cuts will mean. There will no doubt be protests in the street over it (though not quite like Brazil), and legislators will predictably make statements to the press about how important transit service is and how the cuts could not have been foreseen.
Despite such feigned ignorance, RIPTA's plight is well known in the Statehouse. Speaker Fox has maintained that finding sustainable funding for the buses is one of his top three priorities this session. Dozens of members of the House have even signed a letter calling on the Speaker to live up to this stated priority.  There has been sustained advocacy on the issue for as far back as legislators memories can stretch, advocacy from the environmental, social service, public health, senior, disabled, youth, labor, and business communities. What will it take?
I suspect in the end that it may require the people in the street in the lead up to next year's elections to finally see a solution. In the meantime, the public will suffer and whatever economic development policies that lawmakers manage to get through will be entirely undermined.
Budget hole big enough to drive a bus through

,