Check out this moving video about last nights vigil in Charlestown W. Va. They braved the snow after working 24/7 for 2 weeks on the relief effort with this UNITY Event.
They were supported by people all over the world, many of the pictures are posted here including several from Fossil Free RI/Sierra Club members.Check them out. They are very cool. Whose water? OurWater.
http://ourwaterwv.org/photos-from-vigils-around-the-country/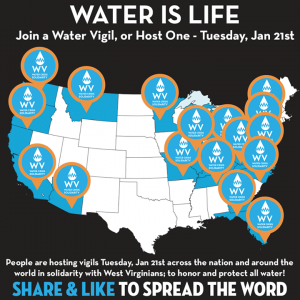 Even though the ban has been officially lifted, people are still showing up at hospitals with chemical burns. Their Governor Tomplin has not inspired confidence with answers like "you can drink the water if you want to" and "I am not a scientist." Appalachian Water Watch is tracking where people are still smelling MCHM. "If you can still smell the chemical in your home, record your findings at http://appalachianwaterwatch.org/ or call at 1-855-7WATERS to have them help you upload your information to the website." so if you have friends or family there let them know. W VA hub sarcastically adds "With the addition of PPH to MCHM and the five other acronyms in the spill, West Virginia water is now cleared for use in alphabet soup."
The problem there isn't "a few bad apples" (thought Freedom Industries owners are rotten to the core) as Charleston Mayor Jones (R) said, or that there were a few holes in the classification of chemicals that anti-EPA governor Tomplin (R) claims or that everyone is picking on the coal industry as Sen. Joe "the coal mannequin" Manchin (D) (pronounced mansion) claims. The problem is the rotten stink of corporate controlled government with the fossil fuel industry as a prime mover.
This comes at an important time when President Obama is trying to ram through the Trans-Pacific Partnership will legalize it for corporations to put profits before the public health.
So "what happens in W Va doesn't stay in W VA"; either we start cutting off the heads of these toxic dragons or we will all pay.
Our Senator Whitehouse's committee is only working on the Boxer/Vitter Toxic substances law to patch the hole not inciting the coal industry and corruption that led to the EPA weakening in "Chemical Valley." I hope that this changes or is in the works.
On a state level, we can't even get storm water treatment passed- this is another one of the right wing governor from W. Virginia's "concessions." Imagine what one chemical spill on Rte 95 could do to the bay. If we can't get this passed how many other ways is the public health being put at risk?
Let's hope that a water disaster where 300,000 people water is "toxified" in one "accident" is enough to wake up our government, currently embalmed with  corporate money, to wake up an start correcting the problem at the root.
Honoring the Water video, Stopping the TTP

,